Being about our Father's business is our mission here at New Berean. Our commitment God's business in carrying out the Great Commission of sharing the Gospel of Jesus, baptizing and training/educating those who believe in the things of the Lord is our business. "And He said to them, "Why did you seek Me? Did you not know that I must be about My Father's business?" Luke 2:49 Jesus' life was to satisfy the his Father by being obedient to his Father. And in order to be obedient, he had to know the Father's plan.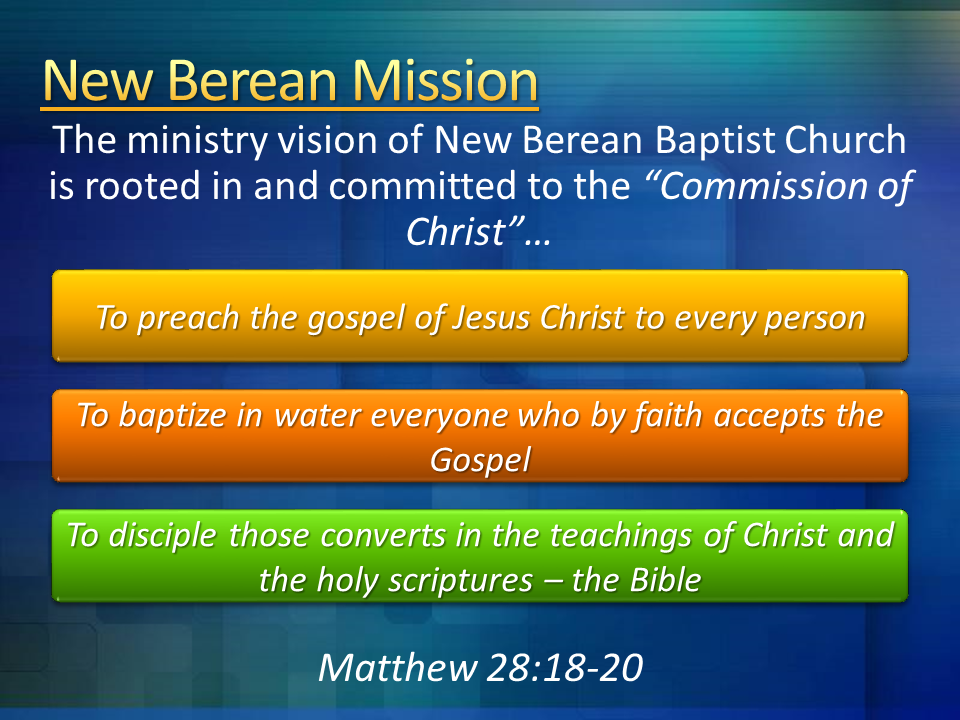 After his resurrection, Jesus gave a command to the disciples who followed him:
"And Jesus came and spoke to them, saying, "All authority has been given to Me in heaven and on earth. 19 Go ]therefore and make disciples of all the nations, baptizing them in the name of the Father and of the Son and of the Holy Spirit, 20 teaching them to observe all things that I have commanded you; and lo, I am with you always, even to the end of the age." Amen. Matthew 28:18-20
So is His mission, our mission to reach the ends of the earth for the cause Christ as we are lead by the power of his Spirit (Acts 1:8), one person at a time. All of our ministry and various opportunities of service, training, discipleship, worship, fellowship and missions is done with intention of following our Lord's command to "teach them all the things he commanded" Matthew 28:20
If you are interested in learning more about the ministry of New Berean, contact us at one of the contacts listed below, we'd love to hear from you.
#CommittedtotheCommissionofChrist