___________________________________________________________________
Pulpit Points (Audio Archive)
2020
Our Victory Assured – Our everyday walk in the Lord is going to be met with all kinds of challenges. Some will be easy to work through and some will be not. But in his word, the Lord our has given us the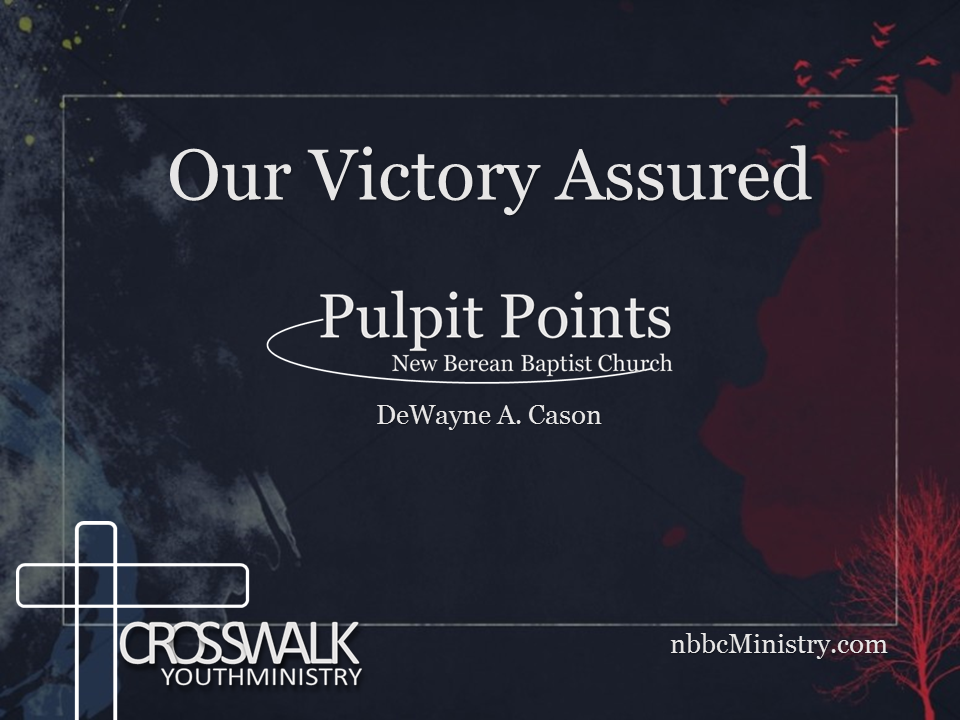 assurance of victory. In his account of Paul to the church at Corinth, the Lord used his faithfulness as a foundation for them to rest assured in victory.
David's Ups and Downs – Through our life as Believers, we will experience times of ups and downs. We will have moments of triumphs and times of defeat. We will have times of failure and seasons of success. In today's Pulpit Points message, Pastor Ricks shared some of the ups and downs of David as chronicled in Psalms 51. Some of the things David experienced:
A Need for Forgiveness, vs 1-2
A Need to Confess Sin in His Life, vs 3-6
A Need to be Cleansed, vs 7-12
A Promise of Renewed Service, vs 13-17
A Petition for National Restoration, vs 18-19
Let us be encouraged from the word of God, through David's Ups and Downs, we too can receive God's anointing. David was used by the Lord because he was chosen and appointed. We too have been chosen to bear the name of the Lord even though we will experience our own ups and downs.
 Check Yourself Before You Wreck Yourself – How do you need gas in your car? Check you display panel. How you know what your blood pressure or glucose level? Check it. If we want to know where we are in the Lord, we are encouraged by the word of Lord to Check ourselves.
In today's Pulpit Points message, Dr. Lamont, used the account of Cain and Abel, to remind us how critical it is for us periodically and frequently "Check Ourselves Before we Wreck Ourselves".
God Is For Us – Today's Pulpit Points "God is For Us", Leroy Ricks reminds us that our past, present and future is covered by his love for us. We as believers are often times overwhelmed by fear. Fear our past may catch up with us. Fear our present is filled with disappointment and fear and our future is lined with uncertainty.
Romans 8:31-39 was written to settle us in our misunderstanding and fear that we are safe.and secured in His love. God says perfect love (which his love is) casts out fear.
– God is For Us. Rom. 8:31
– Christ Died for Us, Rom. 8:32
– God Justified Us, Rom. 8:33
– Christ Intercedes For Us, Rom. 8:34
– Christ Loves Us, Rom. 8:35-39
The Witness From Decapolis – In our life on in the lives others we may know, let us consider the both the saving grace of our Lord and his divine ability to deliver us from the ungodly and satanic influences that surround us. In today's Pulpit Points message, Pastor DeWayne Cason (Youth Minister of New Berean) shared the biblical account of a man who had been demon-possessed and the impact Jesus made on his life after they met.
Got The Gift?, Don't Keep It To Yourself – In our Sunday Pulpit Points message, Minister Cason shared the experience of four lepers who were in certain unclean "Condition", who then made a "Decision".
Once they made a decision, the received their "Provisions"
As we approach the Christmas celebration, the birth of the Savior, we who have received the gift of salvation, we are obligated to share that special, precious gift of God.
2020
More Than A Baby in Bethlehem – There are many different theories regarding what Christmas is all about. There some secular theories and some religious and then there is the biblical account of Christmas. In today's message, Leroy Ricks refreshed our memories that Christmas was and is more than a baby in Bethlehem.
God "masterminded" a plan to redeem mankind from the penalty and judgement of sin. For as the scriptures have concluded "all have sinned" (Rom. 3:10) and because of one man (Adam), sin entered into the world. And as a result, of that one man's sin, every human is placed under the wrath of God.
Praise & Worship – Leroy E. Ricks, Sr, sharing today's message "Praise and Worship." We are encouraged and reminded of God's expectation for us regarding our praise and worship. Too many times we associate acts and location with worship. True worshipers worship Him in spirit (by the Holy Spirit) and truth (by the word of God) and not in what we do or where we're located. In the biblical account of Jesus' conversation with the woman at the well, we are corrected.
Psalms 100 sums it up. We are to come to Lord properly:
Joyfully – vs 1, 2
Submissively – v 3
Thankfully – vs 4, 5
I Am Nothing (John the Baptist) – In today's Pulpit Points message Dr. Ricks shared with the congregation how humility will carry us further in God's plan than trying to draw attention to our self. In Luke's account in chapter 3. Dr. Ricks outlined the character of one who accepted his role as less than the person of Christ.
John the Baptist was…
N-Never Intimidated By the Crowd
O-Obedient to His Purpose as the Forerunner
T-Thankful for Being "Chosen" to Prepare the Way
H-Honest About His Limitations
I-Intuned to God's Word & Message
N-Never One to Waste His Words or People's Time                                       G-Gateway to the Savior
Dr. Ricks challenges us not to speak on your own good behavior, accomplishments, and favorable status for he last 6 weeks of this year. Be like John by decreasing so Christ may increase. Just simply ask the Lord to be glorified in your life.
When Jesus Meets Us In Our Darkest Hour – In our lives as Believers, there are going to be times that seem unbearable. We all have bad days and some days are worse than other days. The degree of the bad days are not always tied to our sin, something we've done wrong or even someone else's sin. As in the case of today's message in Luke 5, this leper was in an advance stage of an illness and wanted to be healed but not because of sin.
He was brought to this point that the glory of God be manifested. Dr. Ricks reminded us of the importance of going to the Healer specifically for the issues or the concerns in our life. We are never without hope, regardless of darkness we are compassed with
The Compassion of Christ Pt I, Pt II – ( Luke 1:5-25) In the account of Elizabeth, John, Gabriel and Zacharias, Dr. Lamont Ricks reminded us of the compassion of Christ which:
1- Does Not Have a Shelf Life
2- Can Out Perform Reality
3- Is A Sign of God's Favor Towards Us
Who Do They Say You Are? –  We've heard recorded account of the Lord and is disciples, when he asked them, "who do they say, I the son of man am?" But in today's message, Leroy Ricks asks the question who do they say you are. Some of us have said, we don't care what people are saying about us but on the contrary, as believers, having the mind of Christ, we should care that the comments people are saying about us ought to reflective of the Lord.
The Love of God in Action – Today Pastor Bernard Sylvien to the Caribbean island of Curacao visited today. Giving witness and testimony of God's work in spite and light of language barriers and doctrinal error.
According to the Gospel of John we learn how great and immense the love of God is and has been demonstrated in his action. In particular, John 3:16, the love of God is the type of love is put into action knowing the need and condition of the recipient. Even though we are or were destitute and destined for a Christ-less eternity, God extended and offered his love. 
3 Reasons God Purposefully Permits Pain – One of the first attributes we have of God is his compassion and love towards all. And truly He is both. But in today's Pulpit Points message, Leroy Ricks, Sr, shares three reasons God Purposefully Permits Pain in the lives of those who believe in Him.
CELEBRATION SEPTEMBER  – 30th Anniversary Package
9/29/19 – God Is…As shared with us today by Stanley Eley, Pastor of Macedonia Baptist Church,  our understanding of who God is in our lives is critical to the next breath we take, the next beat of our heart or step we make. Let Him be who he is.
God Loves Us, I Jhn 4:10, Jer. 31:3
God Redeemed Us, Psalm 103:4
God is Always With Us, Zep. 3:17, Matt. 28:20
God is Our Protector, Psalm 18:2
God is Faithful to Us, Num. 23:9
9/25/19 Does Your Faith Have Enduring Power? Guest Speaker Pastor Ralph Richardson
9/22/19 – To Die For, Guest Speaker Pastor Greg Norris
9/22/19 Keep On Keeping On (Part I), (Part II) –
Salvation Found on the Road to Gaza –
In today's economy, we are provided with a wealth of information. If we do not know where to go in the Mall, we can look at anyone on the store layout maps located at selected entrances and find what we're looking for. If we need driving directions to a destination, we can pull out our smart phone device and request those directions and we'll have them turn-by-turn. In today's Pulpit Points message, Youth Pastor DeWayne Cason shared with us how one can be saved, using the biblical
GPS
(G-od's P-lan of S-alvation).
The context of this message is found in Acts 8, beginning at verse 26 with Peter and an Ethiopian Eunuch. Many people read and have a surface knowledge of certain bible passages but not a clear understating of what it means and what their response should be to those passages. But in our lesson Peter helps the Eunuch understands what he is reading.
My Shepherd – Personally speaking who is the Lord to you? In today's
Pulpit Points message, Leroy E. Ricks Sr, shares with the congregation how David saw his relationship with Lord as it gets as documented in Psalm 23.
The Dangers of Familiarity – Too often we we become too familiar I'm our relationship with our heaven Father. In doing so, we forget that he is not only our Father, he is God, he is the Supreme Author.

In today's message, Dr. Rick's shares with the attending that all of us can be lulled into a complacent mindset of who God is and our respect of who he is.
Four Instructions To Follow (To Enjoy the Help and Blessings of The Lord) –  Jesus was witnessed instructing his disciples (Matt. 5:2, Mark 11:17) his Father's word. it was intended to make clear the things they needed to know and appreciate. God's word contains instructions and these instructions are to be followed by us who are called believers. In this week's Pulpit Points message, Leroy Ricks shared four instructions from the writer of Psalm 111 they we can apply to enjoy and appreciate God's help and blessings.
Spiritual Protection for Satanic Attacks – We've heard people say, "satan is busy", or some variation of that saying. The reality is, that it is true. Satan's tool of the trade is deception. Jesus said that he, "When he speaks a lie, he speaks from his own resources, for he is a liar and the father of it." John 8:44b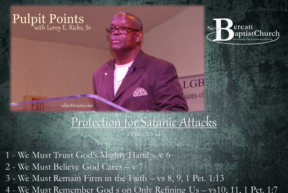 And in today's message, Leroy Ricks shared the seriousness of knowing and understanding that when obey God through faith in his word, we are spiritually protected. Being that we are in a spiritual war, our issues are more spiritual than physical or emotional.
The Christian Earnestness – There are some things that are important and somethings are not. In today's Pulpit Points message Leroy Ricks shared with the congregations some things God calls for us to be earnest about.
The effort of our earnestness is shown up in the things we consider important.
7 Things The Believer Cannot Live Without – In our world, there are three elements (i.e. air, water and food) that must be in place and available for us to be sustained. We cannot exist without these things. In our spiritual life, we cannot maintain a healthy or sustainable life without certain things and in today's message, Leroy Ricks, Sr shares with us 7 Things the Believer Cannot Live Without.
A Hidden Treasure and A Pure Heart – Today's Pulpit Points message was delivered to remind us that some of the treasures of the word of God are hidden. The treasures are there but in order for us to grow into that pure heart, we are to examine, search out, investigate and find those treasures.
5 Principles of FATHERHOOD – From Deut. 6: 1-21, Dr. Lamont E. Ricks share with the attending five biblical principles everyone should adhere to and live by, but in particular men, fathers.
A Godly Man:
1) Speaks Life in his Children's Future (v 1)
2) Warns His Children to Fear the Lord (vss 2-3)
3) Provides A Spiritual Blueprint to His Children Through Transparent & Constant Conversations (vss 4-9)
4) Reminds His Children of God's Jealousy Should they Turn From Him (vss 10-16)
5) Reflects on God's Mighty Hand in His Own Life (vss 18-21)
We as men are encourage that regardless of the hand we have been dealt or the circumstances we find ourselves in, God's love, grace and hope is all sufficient to bring healing, health to our relationship and glory to himself.
The Christian's Hope – Leroy Ricks reminded us that we as Believers, have hope.
-We Have Good Hope – 2 Thess. 2:16
-We Have a Living Hope – 1 Pet. 1:3
-We Have Purifying Hope – 1 John 3:3
-We Have a Blessed Hope – Titus 2:13
Life can be overwhelming at times and drain us of all that God has for us, but we can rejoice in the hope we now have in Christ Jesus our Lord.
Prayer In The Time of Danger – (Matt. 8:24-27) The scriptures have concluded that we ought to pray without ceasing (I Thess. 5:17). God tells us not to be anxious for anything but in prayer and supplications let our requests be made known to Him (Phil 4:6)…so that we may experience the peace of God. In today's message, God reminds us that there are some times that are more urgent, more dangerous than others and that require immediate attention from God and not a delayed response.
The disciples of Christ verbally declared there would follow Jesus wherever he would go. They followed him in a boat where he fell asleep. They said the would follow him. But when the tempest arose in the sea and troubled their comfort of being close to the Savior. When their comfort was disturbed, would they continue to trust him? Would we continue to trust our Lord when the storms of life reek havoc on us.
Prepared For Service by a Worshiping Mother – Mothers have a special place in the heart of God. They have been assigned and tasked to bear the birth, nurture and training us in the things of God. In today's Pulpit Points message, Youth Pastor DeWayne Cason shares with a personal side and practical understanding of God's plan for the blessed person we call "Mother".
Heirs With the Saints and The King of Kings – In our life as Believers we will experience a number of things, events and circumstances that will challenge our faith. God wants us to know that no matter what we experience we belong to Him and he is our God. And as a direct result of that relationship we are heirs to an inheritance that the world as a whole are not:
Our Heavenly Father wants us to walk in confidence and be encouraged that we are more than conquerors through Him who loves us.
The Royal Law of Love – The Apostle James wrote about a royal law of love that if properly and faithfully carried out is a sure way of pleasing the Lord. Paul the Apostle, shared with the church in Corinth that it doesn't matter how, "spiritual" we are, how knowledgeable we are or dedicated to service type ministry we are and lack love, it profits us nothing. Today, Leroy E. Ricks showed us the various areas of our life where we can and should demonstrate a love that would please our God and be a blessing to others.
The Victory in the Resurrection – In today's Pulpit Points message, Pastor Rick's shared with the attending Easter morning gathering why there is victory in the resurrection and that we experience that victory.
The Resurrection of Christ…
1. Affirms that Jesus is the Son of God – Rom. 1:1-4
2. Proves that Jesus' Sacrifice for Sin Has Been Accepted and the Work of Salvation is Complete Rom. 4:24, 25 and 

3. Declares that Jesus is the Judge who will one day Judge the World – Acts 17:31:32
The Resurrection affirms, proves and declares some truths about our present and future state and in knowing these truths, we can rejoice in the victory we have..
Lessons From The Valley (Part IV) – Dr. Lamont Ricks shares with the attending guests and visitors the extent to which God's wants our devotion.
From I Kings 18, the people of Israel were teetering on their walk in the Lord and God wanted to make it real clear to them that He and he alone was to get their attention.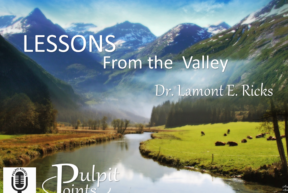 Lessons From The Valley (Pt III) – In today's message Dr. Ricks continues his series of Lessons from The Valley. God has shown us how He uses Elisha in the previous lessons with the widow and her son and how he provided for them. Today,  we will see how God used Elisha before Obadiah, Ahab and  Jezebel. (I Kings 18:1-19)
Lessons From the Valley (Pt II) – Dr. Ricks shares with us the second part of this series from the account of Elisha and a widow.
Lessons From The Valley (Pt I)- A valley is a place in person's life that is caused by an event or group of circumstances that may or may NOT be the outcome of our decisions. It is a place of spiritual, financial, health or emotional drought. The valley is often characterized as a lonely, dark place. In addition it is a place where God is oftentimes silent and NOT moving as we would like for Him.
In today's Pulpit Points message Dr. Lamont Ricks shared how in the valleys of our lives (which we all will experience) that we can endure and survive and thrive in these valleys through lessons He will teach us.
– Dr. L. E. Ricks
Do You Have A Joy-List – The life of the Believer is not all "pie in the sky" or skipping through the tulips as some would imply.It is a life that will challenge our inner being to the core. We will be tested, physically, spiritually, emotionally and mentally to no end in some cases and it is all real.
But Jesus came to remind us as the example that there is more to our lives, that we should balance these lives and be refocused on all of who we are and not just part of it.
Forgiveness Is Good For The Soul – God's desire for his children is that we live the life of Christ to bring him glory.
In today's message, Leroy Ricks shared how important it is that we review our "to-do" list as Believers from time to time. One of the things he shared today was the need to forgive. Forgiveness brings glory to God, and health and healing to us. We are asked, we are commanded to forgive base upon the forgiveness in which we have been forgiven.
When The Wall Is Broken – As we live our lives in this world, there is going to be some brokenness. For the Believer, there is no escaping the short-comings of others, the pains and persecution associated with this life. God is most concerned with our manner of life here and now because it is all to His glory. Our heavenly crowns will be handed out base upon our service work and ministry here in time. 
In today Pulpit Points message, Pastor Ricks shares how important it is to remain close in faithful obedience to the word and promises of God that we can honor him. Nehemiah 1 gives us several points to follow when the wall is broken.
Zacchaeus Seeks A Savior – Zacchaeus was a man, a human like anybody else. We were all sinners like he was, lost and out on a limb. But Jesus knew our sin condition and came to seek and to save the lost to bring about spiritual reconciliation in our lives. In today's Pulpit Points message, Minister DeWayne Cason shares with us in his ignorance of his real need, he sought and found the Savior he was looking for, the One who could and bring to him salvation.
The DANGERS of Drifting Away From God – God has given us instructions on everything that pertains to life and godliness (1 Pet 1:3) and He expects us to faithfully follow in obedience. In today's Pulpit Points message, Dr. Lamont Ricks shares with us that there are dangers associated with falling to follow the Lord's word.
We as Believers will be challenged to compromise what we know to be true. The Lord established and has maintained his church as the vehicle by which we are to be instructed and discipled in his word. But when we chose to consider His establishment as an option, we open ourselves up to list, hear and follow  others who will seek to pervert the truth of God's word.
The BENEFITS of Fearing God – Believers are encouraged to know and understand there are benefits to fearing God. Fear God is simply have the right, reverence and perspective of the true and living God. God is sovereign and righteous and is able to do as his wisdom determines.Having an incorrect perspective, respective or fear will cause us to do things that will can cause that will not brings glory to the Lord. This type of mindset will cause us to fall into dangerous territory.
On the contrary, having the right fear of God, we will experience some divine and blessed benefits.
Why Am I Under Attack – In today's message, Dr. Lamont Ricks shares with the attending how many of under attack but we have no explainable reason why. We understand that "all that who live godly…" are guaranteed  persecution but we still don't understand why.
Dr. Ricks share three points as to why we are under attack.
Building Our Faith on A Foundation of Failure – It has been said "the only people who don't fail are the ones who don't do anything". But we know that is not true for we all fail in one way or another. In the body of Christ, we are reminded through today's message of Minister DeWayne Cason that a failure does not make us a failure. For in Christ we are more than conquers (Rom. 8:37).   Using the life examples of three people (Abraham, Moses & 
Mark) Minister Cason details threes points:
Faithfulness In Times of Failure Can Invite The Favor of God
Face to Face Relationship with the Lord Will Lift Us Up From Failures
Fellowship and Family Can Bring Encouragement In the Midst of Failure
God has determined by His will that we were designed and created to do good works and that we should live in those good works (Eph. 2:10). Be encouraged today that God is not finished with any of us and desires that we accept His truth and life life in abundance to this truth.
Lest We Forget – In today's message Leroy Ricks, Sr. shares with the congregation that the word of God remains the same throughout time. Israel was led by Moses, God's chosen leader and yet they struggled with trusting. God's people had been delivered by the mighty hand of the Most High and and still questioned God's might and authority. Today, we too struggle with some of the same issues and in turn rob ourselves of the joys and pleasures of the Lord (Ps. 16:11)
According to Heb. 10:25, we are to assemble ourselves together that we may 1) hear the preached word of God, 2) encourage one another in the mission of Christ and 3) be accountable to the spiritual leaders (Heb. 13:17). In doing so, we can grow and mature just a the Lord would have us to live. But if we don't we will deprive ourselves of the things of God. God wants us to :
– Obey, Be Wise and Be the Understanding People (Deut. 4:6)
– Obey and Know How Near God is To His People (Deut. 4:7-8)
– Obey and The Nations Will Know (Deut. 4:9-14)
When we obey the Lord, we will live a life that pleases Him and our testimony will bless those around us.
For What We Should Pray – 
There is a hymn entitled, "What A Friend We Have in Jesus" which tells us of the intimate relationship we have and can have in the Lord Jesus. This relationship is often hindered and distracted when we don't communicate with Him through prayer.

In today's Pulpit Points message, Leroy Ricks Sr, shares with us several things we ought to be praying for for and what the benefits of praying. The Lord himself even said to us, his disciples through a parable that they ought to pray and not lose heart or be faint-hearted (Luke 18:1). The reality is due to the cares and toils of life, we can be consumed and overwhelmed and lose heart. Our strength can be drawn from us to point where we become weak. Our weakness will in turn manifest itself in us not continually pray to Him.
Pray For;
– Grace, Heb. 4:14-16
– That Which Will Glorify Him. Jhn. 14:12-14
– The Sick, Jam. 5:16-17
– Wisdom, Jam. 1:5-7
– Forgiveness, I Jhn. 1:9
God is Able To Deliver – In our walk with the Lord, we are accosted by the devil, and his schemes and will be for as long as we walk. It comes with the territory of being in Christ (2 Tim. 3:12). We will experience some evil attacks to discredit our God and minimize our testimonial impact on the world. 
But in today's message "God is Able to Deliver", Leroy Ricks shared that God is Able to deliver Us from:
-The Guilt and Penalty of Evil (Rom. 6:23)
-The Power of Evil (Gal. 5:16-18)
-The Practicing of Evil (Ps. 119:9-11)
2018
My Hope Is Built On Nothing Less – Drricksempowers at Watchnight 2018
As unstable as 2018 was, rest assure that 2019 will present to some of us a similar level of uncertainty. But in tonight's message, Dr. Rick's reminds us that as believers, regardless of the circumstances, the situations or the surroundings we may find ourselves, "Our Hope is Built on Nothing Less".
Through the account of the lame man (Luke 5:17-29) these three points:

– Jesus is Our Source of Hope
– Hope Connected to Jesus Will Cause Us to Out Perform Our Limitations
– Faith in Jesus Produces Works that Are Not Contingent on Others
Jonah – A Reluctant and Angry Witness – A witness is a person called to provide an accurate account of an event or circumstance or series of events.
In today's Pulpit Points message DeWayne Cason, Youth Minister of New Berean Baptist Church, shared with the attending several points regarding the account of "Jonah, A Reluctant, Angry Witness". In his message Cason shared how that in God's will, He is not willing that anyone would perish (2 Pet. 3:9), and will use who He wills to testify or "witness" for Him.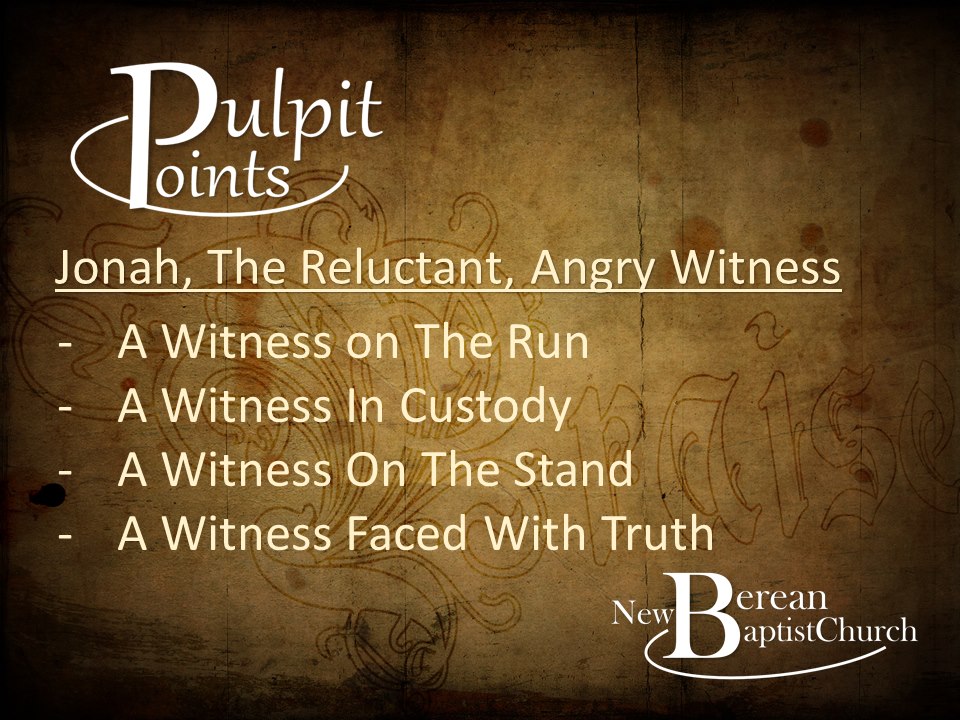 God is not slack in his promise to provide a way of salvation to the lost as well as send a witness to share that message. Jonah was the witness who despite his ungodly, reluctant attitude was used  by the Lord to be a witness for Him.
Hanging By A Thread – When we think about Christmas, we often think about the presents, the gifts and the giving of gifts, the time with family and friends which are all good. But there is a side of the Christmas season that doesn't set well with a number of people who are to the point that they can not enjoy the things other are because of unfavorable circumstances, loved ones who have since passed on into eternity and other reasons.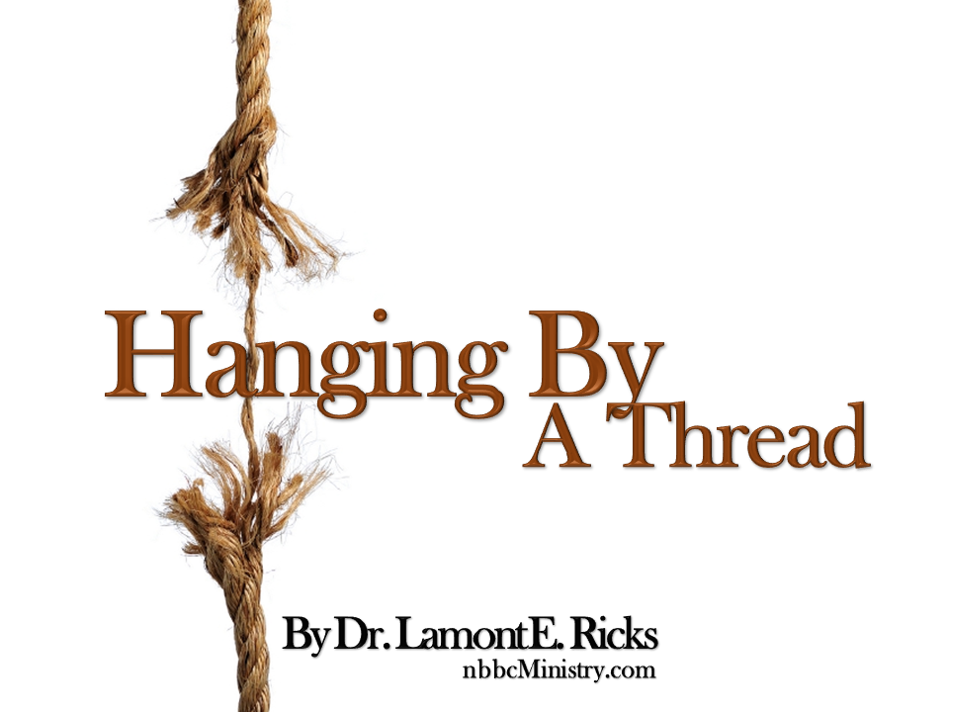 But in today's Pulpit Points message, Dr. Lamont Ricks shares with us that hanging on by a thread is not as bad as we once thought if the thread is the word of God. Join with us as he shares several points that can help us process through the rough side of Christmas and minister to those who are having a rough time this Christmas so ultimately we can glorify our Heavenly Father.
The Purpose of Living – One of the more interesting elements of living in Christ is the reality that it has purpose. The meaning purpose is that life in Christ begins and end with glorifying the Living God. A number of people live their lives sort of uncontrolled with no seemingly known direction and its. God wants us to know we are divinely appointed to live life with purpose and direction. In today's Pulpit Points message, Leroy Ricks shares with us the purpose with live and how meaningful live can be when we live according to God's intended plan. (Jer. 29:11) .
The Cross Was in The Heart of God Before Calvary –
Because of the foreknowledge of God (1 Pet. 1:2), the surrounding events of the crucifixion of Jesus Christ was not an afterthought. It was the Lord knowing all things and how all things would take place that He considered his people's best interest in his heart. He loved his human creation to point that he established and laid out a plan for them to be redeemed from the slave market of sin. In today's message. Leroy E Ricks, Sr, reminds us of how deep God's love for us is and how it can be used to help us as well as help others through times and season of struggles.
In the heart of God, we see the cross as:
 1) The Power of God (1 Cor. 1:18)
2) The ONLY thing to Boast in Concerning Our Salvation (Gal. 6:14)
3) The Place of Our Crucifixion With Christ (Gal. 20)
Because of God's plan for our lives we can be comforted in knowing that he loves us. We can also place the proper value of that love and lessen the concern of what others may think or say about us. We are He's and we've been brought with a price, the life of his only begotten Son, Jesus. Rejoice and be glad in the Lord today.
An Unbreakable Bond – In today's Pulpit Points message Dr. Lamont Ricks, he reminded us through the account of John 5, that a bond exists between the Lord God and God the Son, Jesus the Christ. This bond is rejected by most people because there is no human logic or rationale to explain this bond. But this is a spiritual concept that exists for the spiritual to trust the Lord by faith. Many people will accept the concept of "god" but have an with it's direct association with the bond between the Son and the Father.– Jesus Is Equal to the Father in Power, vs 19-21
-Jesus Is Equal to the Father in Authority, vs 22-26
-Jesus Is Equal to the Father in His Love for Us, vs 27-30
Our Father dispatched his Son, his only son to demonstrate his love, power and authority before his human creation. God the Father's order exists as a demonstration of his authority, his power and love for us to trust and obey. The truth of this until bond is to distinguish him as the great I AM.
 The Joy of Answered Prayer – The are many joys or times to rejoice in the Lord and having a prayer answered is one of them. In our walk as a Believer in Christ there will be many times in which we will be struggling with a situation. We may need some encouragement and hope for the next step and God is both aware and concerned. He cares for us (Pro. 12:25, 1 Pet. 5:7).
In today's message. Leroy Ricks shared from Psalms 30 that in times like these, God wants to reminds us of his love, kindness towards us that we may have hope.
In this Psalm the writer shows us, there is where his joy rests…
-His Personal Remembrance vss 1-3
-His Public Reminders vss 4, 5
-His Individual Reflections vss 6-9
-His Pledge To Praise God vss 10-12
 We are offered joy from our eternal Father when we take time in the midst of our drought to simple praise Him for who he is.
In today's message, Leroy Ricks, Sr shared points from varied biblical passages of the reality we have in Christ Jesus. We are blessed beyond measure because of the finished work of the Lord (1 Peter 1:3).
– We Have Been Regenerated, Titus 3:5
– We Have the Indwelling of the Holy Spirit
1 Cor. 6:19
– We Have Received the Baptism of the Holy Spirit of God, 1 Cor. 12:13
– We Are Sealed into the Body of Christ by the Holy Spirit, Eph. 1:13,14 & Eph. 4:30
Biblical accuracy is critical to our eternal destination and the testimony of the Lord God. It is of the utmost importance, that when both hear and share the scriptures, that is true and accurate to the Spirit of God. 2 Cor. 4:1-6.
A Good God In Bad Times – In today's Pulpit Points message, Dr. Lamont shared with the attending group this morning how that even in bad times, God is good. We have been known to say, "God is good, all the time and all the time God is good". But that normally is in response to a favorably answered prayer. 

God is a God who cannot change (Heb. 6:16, 17) is good all the time regardless of the circumstances, favorable or not. From the account of Hezekiah in 2 Kings 20, Dr. Ricks reminds us of these three points:
– Bad News Can Come from Good People (v1)
– Bad News Expose Our True Relationship With A Good God (v2,3)
– Bad News Does Not Mean A Bad Ending (v4-6)
We are in situations every day to demonstrate the goodness of God even in bad times and the Lord wants us to know He can be trusted in all .
Saved But Not Sanctified – Many of us go under the guise that being seals and insulates us from sin and the evils of our world. But on the contrary as pointed out in today's message, Dr. Ricks reminds from
the scriptures otherwise. Even though we are saved we are not exempted from the ills of the world or the influence of this world on our sinful nature.  Follow us today as we examine the scriptures to learn of the wonderful life we can now live in Christ Jesus.
Something About That Name J-E-S-U-S –
There is an old chant that goes by the title, "There's Something About That Name". God has declared that in the the name of his Son, Jesus, there are are many benefits we have as a direct result of being in Jesus. In Today's message, Pastor Ricks shares five of those benefits:
In this walk, this journey, this experience as Christians, we will sometime walk through valleys. Sometimes we will journey through some dark days and experience some dry seasons. We are not always strong. There are going to be times in which we need to be strengthen and God will use the encouragement of the scriptures and through others to supply that needed strength.
God's desire is that through our valleys of shadow of death, we need to be strengthen by encouragement. In today's message Pastor Ricks takes us through a series of passages to remind us of the encourage God uses to strengthen us along this way:
1 – Psalm 18:2, He is our Rock, our Fortress and Deliverer
2 – Psalm 34:6, When we cry out, He will save us from those troubles
3 – Psalm 121:1- 2, He is our Help, in whom we can run
4 – 1 Peter 1:6-7, Our faith in Him is our hope
We are not fitted or suited to be strong enough for the cares of this world. The bombardment of racial and social injustices, political and financial oppression and the more than frequent deaths in our circles – we are overwhelmed at times. But God wants to strengthen us by His encouragement until our time of deliverance. "Rejoice, and be exceeding glad: for great is your reward in heaven: for so persecuted they the prophets which were before you." (Matt 5:12)
Jesus: The One Above All – Today's Pulpit Points message spoken by Dr. Lamont E. Ricks, reminded us the reason why  we serve, worship, honor, obey the Lord Jesus Christ. He by the Word God declared to be;
The LIGHT of The World
The LIVING Water and
The BREAD of Life
Be encouraged and empowered as you live, move and have your being in a world that seems to acknowledge god with respecting His Son.
Feed On God's Faithfulness – It has been said, "You are what you eat". As Believers in the Lord Jesus, we live by  every word that proceeds out of mouth of God (Matt. 4:4). Our lives are sustained by the truth of God's word, but there are times due to circumstance and situations, we are distracted. But in today's Pulpit Points message, Pastor Ricks reminded us of the truth learned by Paul & David, that we are safe and secure and possess an unparalleled level of hope because of God's faithfulness.
The Danger of Missing "What Is" – More often than not we can find ourselves of getting caught up into things that are not as significant as they are made out to be. In today's message, Ralph Richardson, Pastor of Little Grove Baptist Church, reminded us in"The Danger of Missing "What Is" we can and will cause ourselves to forfeit some significant blessings the Lord has prepared for us. Join on the night as we celebrate our 29th Pastor and Church Anniversary.
The Church That Jesus Founded – If you ask people in a random survey, if they are a members of the church that Jesus founded, you may a number to affirm they do. But if you ask them a follow-up question, do they know what is the church of Jesus you will get a number of various responses. In today's message, guest speaker, Dr. Donald Holley of New Swamp Missionary Baptist Church of Emporia, NC shared from the text of Acts 2:41-47 what elements make up Jesus' church. The three basic elements of the church of Jesus Christ is .
It Has the Right Message – The message of the church of Jesus is that it is founded on Jesus himself (Matt. 16:13-19) The single most important aspect of Jesus' church is it's foundation. The foundation is that Jesus is the Christ, the Son of the Living God. If there is any other claim of who Jesus is, it challenges and compromises this truth. The message is the
It Has the Right Membership – The second most important element is in it's membership. God and God alone calls and gives people, the right to become members of this church.
It Has the Right Methodology – Lastly, the methodology of Jesus's church is in the follow-though or subsequent developing each and everyone of these Believers. After one receives this divine right of God (Jhn. 1:12), they are to be baptized and discipled in the things of Jesus.
Saved To The Uttermost – Every now and then we need to be re-adjusted in our faith. There are times during this walk, this journey, this experience that the cares of this world will overwhelm us and get out of tuned with the reality of
who we are in the Lord.  God's word, the truth of his word and the benefits of his word have
never, nor will they ever changed but sometimes we lose focus. In today's message "Saved To The Uttermost" Pastor Ricks reminded us that there is a distinct difference between the saturation of the word and an application. Most of us have the word in our hearts, can recall it and quote it at the drop of a hat. But the gap or disconnect comes in the practical application of the word. Be encouraged as Pastor Ricks reminds us of where God has saved us.
Time To Overcome – All of us as Believers have a past. We all have things that we have to continually ask God's grace. In today's message, Dr. Lamont shares with us how that even with all our past we all can be over comers. 
Through an examination of the account Numbers 13 and Habbakuk 2.
The Will of God – As the Sovereign God he is God has a divine plan for all of his creation. When he created all He created (Genesis 1-3) his plan was for all of it to operate as he intended. And when he saw it operating as it intended, he said it was good.
In today's Pulpit Points message, Pastor Ricks shared his thoughts on both God's will for us and our important response to the knowledge of that will. In accepting God's Will for our lives:
– We Affirm That We Belong To Him
– We Affirm That He Has A Plan For Our Lives
– We Affirm That God's Plan is Best For Us (Selected: Prov. 3:5-6, 1 Cor. 6:19-20, Prov. 19:21 & Psalm 33:11)
Speak, But Don't Strike – Have you ever pushed to the point of saying or doing something out your Christian character? We all have experienced times as such and in today's Pulpit Points message, Dr. Lamont Ricks shares with us the account of
Moses and the children of Israel. Every now and then, our faith will be tested and
challenged to extremes where if we don't stop and consider God's glory,  we will enter into actions that may be irreversible. God wants us to know he can be and should be trusted as the faith God he is. Join us as we take a look in the scriptures, Numbers 20
Gifted But Misguided – The Space Shuttle is designed, built and programmed with a purpose – to explore space and it's galaxy. It is an experience to see the power demonstrated  when it is launched.
Changed For a New Mission – When the Lord God knocked Saul of Tarsus off his beast on his quest to terrorize christians in Damascus, He had a divine purpose planned. God called him, sent him to Ananias who was fearful of Saul because of his past, but used him to set up Saul's path for the future. In today's Pulpit Points message, Leroy Ricks shares with us several elements God used to call Paul and Changed Him for a "New Mission".
Focused On His Faithfulness – In our life, we all will be accosted, entertained and accompanied by some unfavorable circumstances. There will some things happen to us due to our unfaithfulness. Some things will happen because of the sin of others and things will happen just because we are Christians. Things will happen because of the fallen or simple ungodliness of our world. 
In today's Pulpit Points message, Dr. Lamont, shared with us the account of Jesus' disciples who were with him in the boat (Matt. 1421:36), that just as they experienced a moment of desperation we too experience the same from time to time. The Lord led his followers out on the sea and were fearful.
Dr. Ricks wants us to be assured of the faithfulness of our God above our abilities that regardless of the situation. God has been, is and will be faithful (1 Cor. 1:9).
Have A Good Look A God – With all the chaos, busyness and activities going on around us at times, we sometimes lose focus of God. Too many times we've been caught up in the event or circumstance directly in front of us and forget all of who God is. 

But in today's Pulpit Points message, Leroy E. Ricks, Sr. shares with us why it is important every now and then we need to take a step back and take a good look at God Psalm 121). For in doing so we will be able to see that God is Helper, our Protector, and our Preserver.
The Reason I Choose Jesus Life is full of choices. One of the more intriguing questions of life is " why would a loving God send anyone to hell?" But the reality is God does not "send" anyone into eternity forever separated from his divine hope but it's a choice each individual makes.
In today's Pulpit Points message Dr. Lamont's Ricks explains from John 1, why he chooses Jesus. Above all the things and people he could have in his life, the evidence of John's account of the Savior convinces him the choice of Jesus is the right choice for him everyday and would like to encourage you, you will too. Join us
When Life Goes Bad – Every now and then we will experience unfavorable seasons in which seem won't go away. Challenging seasons of doubt, spiritual, mental, physical and emotional we'd pray would go away. But as sure as we'd live this life in Christ, we are not exempt from this moments but the really is God has assured us of some things we need to remember. In today's Pulpit Points message Leroy Ricks shares how David, King David experienced a moment of his life that went bad and how he was able to transition through this moment.
When Depression Comes – As we sojourn through this Christian walk, we will experience all kinds things. We will go through the good time and bad. In today's message, "When Depression Comes" Pastor Ricks share with us that as real as these times are God has some things to comfort and strengthen us.
Don't Feed the B.E.A.R.S – For the Believer, everything in our life happens for the purpose of glorifying our Lord. All of our experiences are intended to elevate the sovereignty of a Holy God. In our Pulpit Points message today, Dr. Lamont E. Ricks shares with us that regardless of the circumstance or situation when find ourselves, we are encouraged to be reminded that our God is the overall authority and is our very present help.
Mothers, Tell Your Children – Today's Pulpit Points message from Leroy E. Ricks Sr, encourages mothers to encourage our children in obedience to our Lord. Our children are an heritage of the Lord which requires us to listen and heed the instructions regarding his gift to us.
The Power of Humility  – In today's "Pulpit Points" message, Dr. Ricks shared with the attending congregation how important the characteristic of humility needs to be a part of our lives in the execution of our testimony for biblical ministry. Humility is the deliberate demonstration of modesty and low esteem in the knowledge of ones position of authority. It is recognizing who we are and not being over asserting our biblical or god-given authority as a means of influencing others.
In his message, Dr. Ricks highlighted three points from the account of Elisha and Gehazi (2 Kings 5:15-27) what humility demonstrates to the world divorced it.

Don't Be So Quick To Walk Away –
Seeing Beyond This Life – Too many times the cares and the pains of this life have captivated our lives more so than they should. Some have have devastated by our sin, failures of other and the disappointments of others but in today's message, Pastor Leroy, examined the the scriptures of Psalm 73. to remind us that just we were have been at times, Asaph was. Asaph too saw some things that troubled him as tings do trouble us.
Be encouraged that just as God encouraged Asaph's heart when he cried out, he sees ours and wants, desires and pleads with us to see beyond the things of this life. From Psalm 73 we find that; 1) God Holds Us – v23, 2) God Guides Us – v24, 3) God Strengthens Us – v26 and 4) God Helps Us – v28
What is Your Aim For The Lord – When we set goals, we usually are motivated more so by external sources than internal. As we gain strength and build ups steam towards those ambitions, they become more internal and few external things can influence us negatively, we become driven and more focused on the goal, the target. In today's Pulpit Points message, Leroy Ricks encourages us, as children of God, aim and focus more so on the things of God and less on the things of this world and of our own selfish desires. Let's aim for the Lord's desires.
You Can Only Pretend For So Long – Today's Pulpit Points message "You Can Only Pretend For So Long", delivered by Dr. Lamont Ricks​ reminds us of our responsibility to make sure we are walking with Lord as we ought and not focus on so much on others, the costs and consequences of unfaithful behavior as well as the blessings and rewards of faithful obedience.
When God is S
ilent – There are going to be times when it seems there is silence from God. In today's Pulpit Points Leroy Ricks shared with the attending group that God's silence seems  to be more real 1) When Our Heart is Broken, 2) When Our Eyes are Filled with Tears and 3) When We are Going To & Fro Looking For God. God's silence is designed to strengthen our faith.
What is Life To You – From Psalm 146, God through the writer reminds us of what life is to us, or rather what ought to be to us. We are accosted by the ill effects of our sin, generational sin, or sin that has been passed on to us from the first man, Adam. All these things that we experience can take us away from our God-intended purpose of life but Pastor Leroy took a moment to share the Psalmist's intent of our life and what is it really is.
Look Again – Tonight's Watchnight message was a challenge to all of us to Look Again at the God of our salvation and the blessings we have in Him when we obey. But it was also a challenge to us that when we waver in our faith we run the risk of losing God divine favor and direction over our lives. Dr. Lamont expounds from 1Kings and Elijah
Pick A Side – On this last Sunday of the year 2018, Dr. Lamont reminded us of the warning and encouragement God gave to Solomon, to be careful and chose who he will serve and worship even in a world where the lines drawn are blurred. When God is blessing we are quick to praise Him, but when we are not as "blessed" we are not as equally responsive but God is still the same.
2017
The Purpose of God's Redemption – Ultimately, everything done or said has the same end purpose. The bible instructs us to do all we do to the glory of God (1 Cor. 10:31). Leroy E. Ricks Sr, shares with us this morning why we should what we do and why we should do it to God's glory.
God's Gift This Christmas – Gifts given during Christmas are often give out of compulsion, as a result of us not wanting to leave someone out. God's gift to the world (John 3:16 ) was given out of a deeply rooted love for His human creation. God gave us his only begotten son, that the world would not be subjected to his righteous judgment against sin.
The Great God of Love – In some settings, you may make the statement, "God is Good" and the response you might get is, "All the Time". In today's Pulpit Points message, Pastor Ricks shares from selected biblical passage why God is good.
The Purpose For Living – Every day hundreds of people who are frustrated with unresolved answers to their most important questions, take their lives or hurt and harm other people. Their demise is so painful, they would rather not live through the experience. But our God loves us so much, he'd rather reassure us in those moments of his everlasting love so that we may bear the weight and experience his grace.
The Body of Christ – What does the "Body of Christ" look like? does it look like the body a physically fit person, a body showing signs of abuse or years of mis-misuse? On the contrary, if we look in the mirror, we'll see some of what his body looks like. We are often and more time prone to default to images that do not accurately give us the visual we need. Today's message by Leroy E. Ricks is presented to help us see, from a biblical perspective just what Christ's body looks like.
The Right Attitude For Serving Christ – Yes there is a right and a wrong way to serve the Lord. In today's Pulpit Points message, Leroy Ricks, Sr shares with us how and why it is important that when serving the Lord our God, we do it in faith and not in unbelief.
Motivation for The Believer – In today's Pulpit Points message, Dr. Lamont Ricks, shared with the attending congregation some of the things that will motivate us to continue on in our walk with the Lord through selected passages (Eph. 2:1-10, 1 John 3:1. 2)
Intense or In Tuned – One's level of intensity is not necessarily equal to one who is in tune with God's will. Today's message by Dr. Lamont, is a reminder of how important it is to make sure we are both for the cause of Christ.
The Power of God's Timing – Timing is everything especially when there is not a lot of time to do things. Gears and machinery are engineered, designed and manufactured to operate on precise timing sequencing and God is no different. Dr. Lamont shares with us today that it is important we are in sync with his timing so we can bring glory as He originally engineered and designed.
The Power of Self-Control – Dr. Lamont Ricks take various biblical passages to remind us that there is power in be under control. When we are out of control we are subject to lose control when situations arise and cause us to behave out of our godly nature.
Listen with us as Dr. Ricks explains what godly self-control is rooted in, solidified by, anchored in and perfected by God's word.
Trauma  – Trauma as defined, is an unfavorable, unpleasant or difficult experience that causes one to move in a direction that will change one's mental state. Today's message, Dr. Ricks shared with New Berean, that all of us will at some point of time experience trauma. God's eternal plan through salvation is to use some of these traumatic experiences to change our spiritual mindset towards Him. In effect. trauma will cause us to…
Pain Before Prosperity – All of us as Christians, have a journey that has taken us through the process of molding and shaping us into the image of Christ. For some of us, the road has been rough and for some of the road has been rougher. None of us will escape the process for in the process, we'll cross opportunities to grow deeper in our faith. We've been forced to deny ourselves more time than we'd like to admit although now are glad for them. God has proven himself to be faithful through them all and in today's message, Dr. Lamont E. Ricks, shared with the congregation of New Berean Baptist Church how and why the process is necessary and in place to bring God glory.
Praise For Deliverance –  Praying for deliverance is different from praising for deliverance. If you've ever been in a desperate situation, you wanted to be delivered. In those times when you were delivered, the overwhelming emotions took over and moved from one extreme to another. Leroy E. Ricks, Sr shares with the New Berean congregation the importance of giving God praise when He delivers us.
Called For A Purpose  – Most of us understand and accept the reality that God has called us into salvation by his divine will. We are in agreement with this calling for in it there are blessings and treasures forevermore (Ps. 16:11), but many of us are not as aware that this calling has a definite and divine purpose. Today we'll examine a specific purpose for which the Lord has opened his heart unto us.
Stay In Your Lane Of Grace – God's grace is moved by His love. It is the single most overwhelming element of His character that closes the gap between our sin and his holy righteousness. Pastor Leroy Ricks reminds us there is nothing we have done that can stay or prevent his grace from covering our sin or rescuing us from our sin. Be encouraged.
Citizens of Heaven – We as Believers in the Lord Jesus are assured that this life (which is temporal) is not all we have. God has declared in His word we are promised and new eternal place of residency that will not fade away but is reserved for us who believe. We are not only citizens of our respective communities but we are now "Citizens of Heaven".
Stand Still and See – If we were stand on the corner of a busy intersection, we will see a lot of things happen and we will probably miss and lot. It is in the things we miss, that are the most important. God is operating and doing a lot in our lives and in the lives of other people around us. He wants us to not only see what is happening but how He is orchestrating his will in our lives to his glory. Join us today and we invite you to "Stand Still and See".
Encouragements – During certain times we will enter into seasons of distress and want even as Believer. David, a man after God's own heart experienced a moment in which he felt abandoned, alone and discouraged (1 Sam. 30:6). But God wants us to know, that even though these times will come, His word declares his comfort and encouragement to us
2016
Choices To Be Made in 2016 – Choices are made every moment of everyday. Some choices either take long thought, some take only a minutes to make. But none the less, we as believers and unbelievers alike are encouraged to consider God's wisdom in everyone of our choices. When we do consider God's way, we can rest assured his abundant grace will be supplied to help us through the process of making choices for 2016
2015
Who Do You Trust (Part I), ( Part II)– As Believers, there are some things that are not negotiable. There are some things that we will not compromise on regardless of where the the questions come from. We are going to make life's decisions based upon those "non-negotiables" and we need to know what we believe and who we trust.
In today's message, Leroy Ricks shares with us why it is most important we know who we have place our trust in and why.
Learn From David – None of us have it all together. We do not have all the answers for all the questions. It has been said the "experience is the best teacher".  But what has not been said as much is that we do not have to personally experience at thing in order to learn a lesson. We can take the experiences of others and learn valuable lessons from theirs. In today's Pulpit Points message, Pastor Leroy E. Ricks Sr, shares with an experience from David in which we can learn a thing or two.
2012
Wait On The Lord – It is never good to put pressure on the Lord or rush Him into saving, delivering or rescuing us, or our loved ones or even think that it's acceptable to think this way. In today's message, Pastor Ricks explains how God's divine wisdom allows him to move as he desires. He expects us to trust his wisdom and trust that He has everything under His sovereignty.