___________________________________________________________________
Pulpit Points (Audio Archive)
Pulpit Points is a library collection of messages from the pulpit preaching ministry of Leroy E. Ricks Sr. Pastor here at New Berean Baptist Church.  Along with other selected Ministers, these audio messages serve as an outreach extension to share the Good News of God's eternal grace through his son the Lord Jesus Christ.
Our prayer is that you will either come to a saving knowledge of Jesus Christ or be encouraged and challenged in your personal walk with Him.
2020   
Words Of Comfort  – Because there are so many things we have to navigate through, in order to do God's will in our life, God wants us to comforted. Today's message is a lesson of instructions by Leroy Ricks to help us balance those things considered temporal with those eternal ones.
A Righteous Preacher, A Righteous Father –
God's Our Anchor In The Storms of Life –
God's Judge and The Victorious Verdict –
Servants of Christ – Entrusted With The Past –
The Anatomy of Praise – A five preaching series on the Anatomy of Praise by Dr. Lamont E. Ricks
God's Divine Deliverance – 
Four Contrasts of The Saved and Unsaved – God has let us know in the scriptures there is no grey area with Him. It is either right or wrong or godly or ungodly. In today Pulpit Points message, Leroy takes the moments from Romans 8:5-9 to remind us how definite the distinction is with God.
Our Victory Assured – Our everyday walk in the Lord is going to be met with all kinds of challenges. Some will be easy to work through and some will be not. But in his word, the Lord our has given us the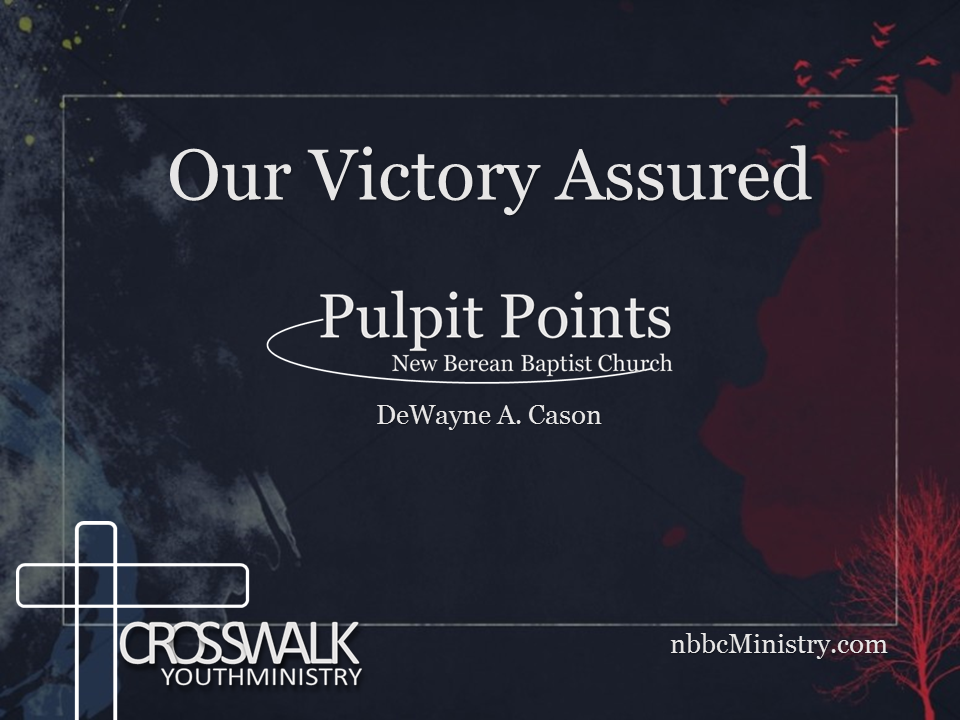 assurance of victory. In his account of Paul to the church at Corinth, the Lord used his faithfulness as a foundation for them to rest assured in victory.
David's Ups and Downs – Through our life as Believers, we will experience times of ups and downs. We will have moments of triumphs and times of defeat. We will have times of failure and seasons of success. In today's Pulpit Points message, Pastor Ricks shared some of the ups and downs of David as chronicled in Psalms 51. Some of the things David experienced:
A Need for Forgiveness, vs 1-2
A Need to Confess Sin in His Life, vs 3-6
A Need to be Cleansed, vs 7-12
A Promise of Renewed Service, vs 13-17
A Petition for National Restoration, vs 18-19
Let us be encouraged from the word of God, through David's Ups and Downs, we too can receive God's anointing. David was used by the Lord because he was chosen and appointed. We too have been chosen to bear the name of the Lord even though we will experience our own ups and downs.
 Check Yourself Before You Wreck Yourself – How do you need gas in your car? Check you display panel. How you know what your blood pressure or glucose level? Check it. If we want to know where we are in the Lord, we are encouraged by the word of Lord to Check ourselves.
In today's Pulpit Points message, Dr. Lamont, used the account of Cain and Abel, to remind us how critical it is for us periodically and frequently "Check Ourselves Before we Wreck Ourselves".
God Is For Us – Today's Pulpit Points "God is For Us", Leroy Ricks reminds us that our past, present and future is covered by his love for us. We as believers are often times overwhelmed by fear. Fear our past may catch up with us. Fear our present is filled with disappointment and fear and our future is lined with uncertainty.
Romans 8:31-39 was written to settle us in our misunderstanding and fear that we are safe.and secured in His love. God says perfect love (which his love is) casts out fear.
– God is For Us. Rom. 8:31
– Christ Died for Us, Rom. 8:32
– God Justified Us, Rom. 8:33
– Christ Intercedes For Us, Rom. 8:34
– Christ Loves Us, Rom. 8:35-39
The Witness From Decapolis – In our life on in the lives others we may know, let us consider the both the saving grace of our Lord and his divine ability to deliver us from the ungodly and satanic influences that surround us. In today's Pulpit Points message, Pastor DeWayne Cason (Youth Minister of New Berean) shared the biblical account of a man who had been demon-possessed and the impact Jesus made on his life after they met.
Got The Gift?, Don't Keep It To Yourself – In our Sunday Pulpit Points message, Minister Cason shared the experience of four lepers who were in certain unclean "Condition", who then made a "Decision".
Once they made a decision, the received their "Provisions"
As we approach the Christmas celebration, the birth of the Savior, we who have received the gift of salvation, we are obligated to share that special, precious gift of God.