New Berean 's message to our members and guests is the same, we care about you. We want you to be as informed about the COVID pandemic and the effects it has had on our local assembly and community. Although we are not currently in a pandemic, this page is intended to provide you with information, relevant to you for your health and safety.
As COVID restrictions are relaxed and scaled back, social gatherings are now being encouraged. But we must maintain a high level of caution while maintaining our focus on the "Commission". With the increased number of people being vaccinated and the number of COVID contagious people decreasing, former Governor Ralph Northam and the CDC found it necessary to relax the restrictions for all gatherings both private and public. The specific information captured here has been extracted here for your convenience. Coronavirus in Virginia If there are any questions or concerns you may have about the changes, contact the Church Administration.

We the New Berean church family have the responsibility to prepare the facility for worship, similar to the role of the Levites to Israel and the Tabernacle. We want set up and provide a facility that will:
Allow you the opportunity to live out your calling in Christ Jesus with minimal distractions.
Be conducive to meet your social, emotional and spiritual needs (Acts 2:44, 4:32)
Provide protection for you against the COVID 19 virus
Support the broader effort to contain and minimize the spread of this virus
When you attend one of our services here at New Berean, we want you to be aware and informed of our "Safe Worship Protocol" for your and the protection of other attendees. Our plan include:
Everyone entering the building is expected to wear facial coverings or masks. Outside, we ask that each one of our guests, friends and family be respectful and wear their masks if you engage in close conversations with others.
Everyone may be subject to body temperature monitoring of <100 degrees F
While in the building, everyone is expected to maintain a safe distance from others
Frequently cleanse or wash your hands minimizing the potential of commuting any germs.
Stay prayerful, vigilant and aware of your surroundings and encourage others to do the same
In the link above, the CDC has comprised a list of considerations and recommendations for faith-based communities.
How COVID Spreads – COVID-19 is thought to spread mainly through close contact from person-to-person. Some people without symptoms may be able to spread the virus. We are still learning about how the virus spreads and the severity of illness it causes (read more).
If You Are Sick – Take steps to care for yourself and help protect others in your home and community. (read more)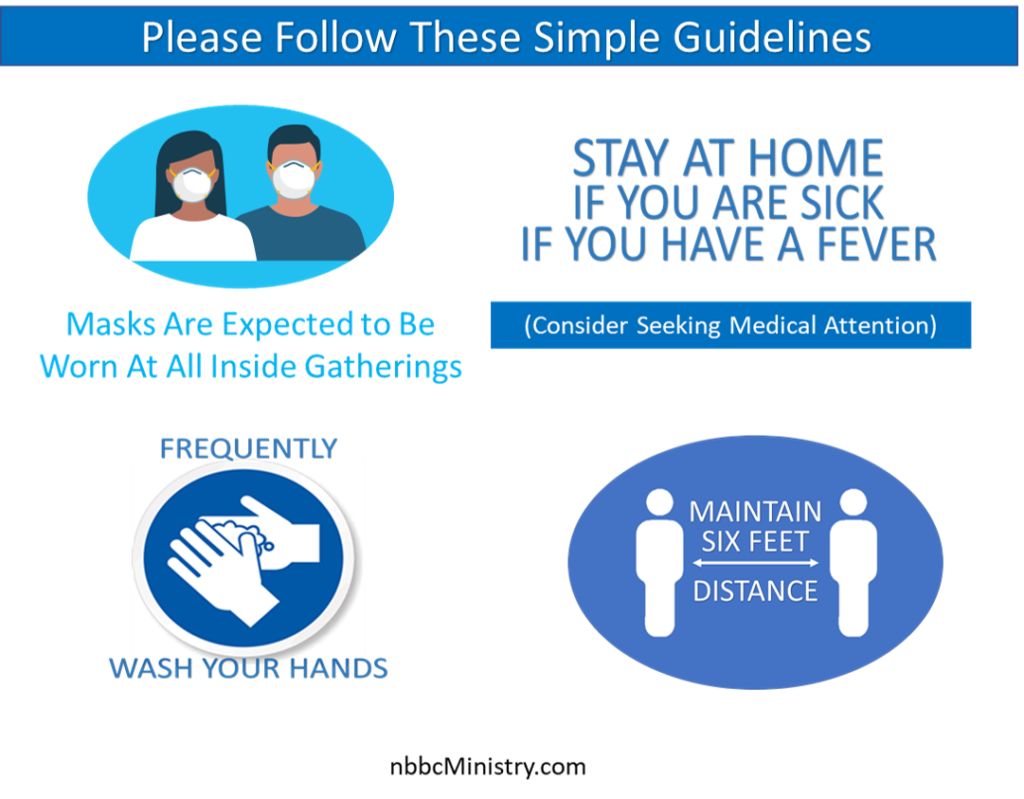 Compliance to the medically administered measures and recommendations has proved to be the best way to navigate these times with minimal impact to everyone. The Lord God has mandated in I Tim. 2:1-4 we pray for those who have governing authority over our livelihood,
"Therefore I exhort first of all that supplications, prayers, intercessions, and giving of thanks be made for all men, 2 for kings and all who are in authority, that we may lead a quiet and peaceable life in all godliness and reverence. 3 For this is good and acceptable in the sight of God our Savior, 4 who desires all men to be saved and to come to the knowledge of the truth.
So let us maintain a life of good works which God has ordained for us walk in, and allow the light of the glorious gospel be seen in us as we see the day of our Lord approaching.