Pulpit Archive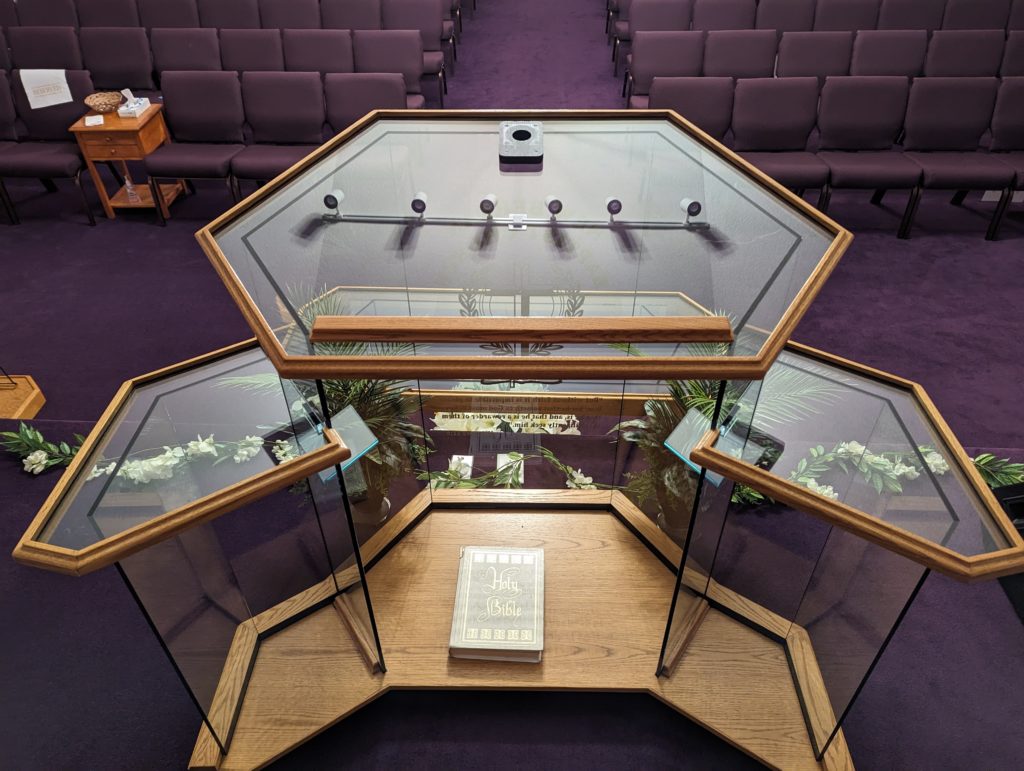 Pulpit Points is a selected collection of messages from the pulpit preaching ministry of New Berean Baptist Church. It is our intent to share these inspiring, challenging and encouraging messages as a means to help supplement your faith in the Christ as well as stimulate spiritual growth and commitment in the things of God. Our collection features some audio and video messages. So, browse through our archives and leave a comment of encouragement.
---
Acting on the Acts of God – A Study in the Book of Acts
---
How to Handle Change
---
The BereanWay –
B – Believing God for the Impossible (An Ugly Problem and A Beautiful Gate) – Beginning a new series of message, today's Pulpit Points message by Pastor Antonio Harris from Acts of the Apostles 3:1-10, reminds us that whatever is impossible to us, is possible with God. He reminds us that God is not limited to what we can imagine but is able to do exceedingly abundantly above what we can think. (video)
E – Educating and Equipping the Saints – In the second installment of the series entitled, The BereanWay, Pastor Tony is sharing with us the vision God gave him for the direction of New Berean. Join us, as we follow the direction of New Berean – The BereanWay, Educating and Equipping the Saints (audio).
R – Reaching Up and Reaching Out – The BereanWay is God's plan for the local church. It is a compilation of faith in the word of God and works of service for the glory of God (James 2:18-24). In today's Pulpit Points message, Pastor Antonio shares with us the act of Reaching Up and Reaching Out as our guideline from (Matthew 6:9-13). The source of our faith is in the Lord God and his written instructions – the bible. He has ordained every believer to be about his business (Acts 1:8, Matt. 28:20) and in fulfilling The BereanWay, we must Reach Up and Reach Out. (audio)
A – Adore God (Psalm 95) – According to Psalms 95, we have a vivid description of how and why we can and should adore the Lord our God. It is a good thing to give thanks and praise to the Lord but we must know who he is. Pastor Tony speaks to us today from this special Psalm of David. (audio)

N – Nobly Search and Study the Scriptures – The Bereans of Acts 17 were considered more noble because of some things they did. God used them as examples of how we too can be biblically and spiritually noble and in today's Pulpit Points message by Pastor Harris, outlines and details these attributes. Additional messages from Pastor Harris can be found at nbbcMinistry.com/ordinary-people. (audio)
W – Welcome All Who Come –
A – Adventure with God through the 23rd Psalm – The God of the Bible is a wonderful God, a God of adventure. He has told us through Jabez to "expand my borders" (I Chro. 4:10). He has told us through Paul that He is able to do exceeding abundantly above all we can ask or think (Eph. 3:20). The wisdom of his creativity is displayed in the scriptures (Psalm 104). To experience God includes experience the wonders of his majesty. (audio)
Y – Youth Focused – Let Them Come – In today's final segment of the series, "The BereanWay", Pastor Tony shares with us the importance to welcome the youth into the world and ministry of Christ. In Mark 10:13-16 we find our Savior taking an opportunity for a teachable moment of our responsibility to a) Bring Them In (v 13a), b) Stop Hindering Them (v13b-14) c) our Need to Follow Them (v15) and to remind the That Jesus Wants to Bless Them (v16)
---
Our Father's Business –
Our Father's Business – Conclusion – In correct conclusion, Pastor Tony brings us to the last component of this series. God's Business Plan "Worship of the Savior" (video)
Our Father's Business – Pt 4 – God's Business Plan for the Church – (video) In continuation of his parent message "Our Father's Business" Pastor Tony focuses on "Fortifying for Ministry and Servantship". Being about our Father's business requires us as believers to know what his business is. His business plan includes fortifying every believer for ministry and servantship. We all have been ordained and called by our God to reach up, reach out, to be strengthened and to stir up gifts and meet the need and share His creed. In today's message, Pastor shares with us some practical insight from the Acts of the Apostles on God's business plan.
In today's message, Pastor "Tony" continues his series on knowing and doing the business of God (ref. Matthew 28:18-20)
Our Father's Business (Part 2) – On this journey as believers, we are going to experience all facets that will stretch us to our wits end. We will be pulled on, tugged at and challenged in are we never thought. And in today's message, Pastor Tony reflects on the call of his life as a believer and the life of a young Jesus and how there is a similarity in our own lives as we seek to be about our father's business. Reflecting from (Luke 2:48-50 and Luke 4:18-21), we'll see a) the Mission of God, b) the Vision of God and c) the Goal of God as laid out in the plan to 1) Send and Mend, 2) Seek and to Set Free and 3) Sanctify, Unify and Love. (video)
---
Freedom from Life's Ultimate Enemy – Freedom is defined as having the ability to act or behave oneself without the hindrance or restrictions of. But in God's word, freedom is the ability to live, move and exist within the boundaries of his word. Biblical freedom has is limitations and benefits. In today's message, Pastor Antonio "Tony" Harris shares why the most complete freedom is found in Jesus Christ @NBBCMinistry1 (audio clip)
A Cure for Heart Trouble – Sometimes our hearts can be heavy, sometimes our hearts slow. God wants us to know no matter the situations that have caused us to be weary in heart, He is the God of all comfort and is both willing and able to provide a cure for heart trouble. (Audio clip)
That's My Father Romans 8:15-28 – We have fathers, good ones, bad ones, present ones and absent ones. We've had mothers as father, filling in the gap, foster dads and all kinds of fathers. But as good as they are, have been and will be, there will never be a Father like of heavenly Father. Through our earthly Fathers, God brought us into existence. We may not have anything to credit our dads credit, but one thing we can say is that we are here because of them.
But God has been our Father even when our mothers and Fathers have forsaken us. He has been everything we need of a father. In today's message, Pastor Tony shares with us why we can rejoice in saying to God about God, "Thats My Father". Listen and be encouraged
Let's Go! Deeper Joshua 1:7-11 After the death of Moses, God's anointed servant, he raised up Joshua to led and move the people of Israel on towards the promised land Canaan. The Lord knew the path getting there was not easy and required Israel to trust him as they did under Moses. In today's Pulpit Points message, Pastor Tony shares three practical points we can apply as we grow in our faith. Let's Go Deeper!
Let's Go! Joshua 1:1-6 After the death of Moses, God Joshua and the rest of Israel a land that flows with milk and honey. But in order for them to receive this gift, they had to go forward in order to go over. In today's message, Pastor Harris gives us an understanding how God asked Israel to trust him go into the land wherewith he had promised.
A Memorial to Remember – Pastor-elect Antonio Harris shared a personal, timely and challenging message to help us remember memorials in our life. In this account of Martha, Lazarus and Jesus, we learned to:
Remember Martha Served Jesus
Remember Lazarus and Simon the Leper Testified About Jesus
Remember Mary's Anointing of Jesus
---
Samuel's Commitment to Intercessory Prayer – Like the nations surrounding them, the Israelites really wanted a king. But when their rejection of God as the real king was exposed, they were terrified and realized their sin in asking for a king. Now that Saul was their king, there could be no turning back from their mistake. Samuel could not change their mess. He promised that he would not sin against the Lord in ceasing to pray for them and that he would keep teaching them God's way.
Godly Mothers – Builders of Tomorrow's Children – This message serves as an encouragement to those Godly and devoted mothers whose Christian walk is genuine. They have set marvelous examples before the Lord and prepared, protected and nurtured their children for their future and for eternity. These mothers are like today's builders who follow the building codes, in order to erect enduring and magnificent mansions that last through time. Lets study the examples of some Godly mothers in the Bible who followed the codes of the Master builder as they laid the foundations of righteousness for their own children's tomorrow. 2 Timothy 1:2-5, Proverbs 22:6
The Lifelong Devotion of Daniel (Daniel 1:1-21) – Daniel was a well known prophet in the Bible and wise advisor to several Kings some 2500 years ago. As a royal teenager he, along with surviving prisoners and children from the families of nobility were taken captive from Jerusalem and exiled to Babylon during the first of three invasions by Nebuchadnezzar. Yet, Daniel demonstrated an enduring and strong devotion to the Lord from his youth until around the age of 90. This message highlights the lifelong devotion of Daniel, a man who purposed in his heart to follow God, no matter what.
The Preeminence of Brotherly Unity – As one of the 12 Songs of Ascents by David, Psalm 133 was also written to be sung by the people of the Lord as they went up to the House of the Lord in Jerusalem to worship. It begins with, "Behold, how good and how pleasant it is for brethren to dwell together in unity". What wonderful preparation for the family of the faithful entering for worship, as they recognized the blessings of doing it together. Psalm 133
Jesus – The Way, The Truth, The Life, At the Last Supper, as Jesus was preparing his disciples for His impending death Jesus told them he will be with them only a little while longer, and that where he is going, they cannot come but he would return and take them him where he is with the Father. This prompted questions by Phillip and Thomas who tells the Master, they don't know where Jesus is going and asks for directions on how to get there. In our message Jesus's response to Thomas's records one of the most well-known and comforting passages of all scripture, John 14:6, "I am the way, and the truth, and the life. No one comes to the Father except through me".
The 'Roman Road to Salvation' is a popular method of evangelism that uses selected verses from Paul's Epistle to the Romans to simply lay out God's plan of salvation. Thousands upon thousands of Christians have used it successfully to share the way to salvation through repentance and faith in our Lord Jesus Christ. This message takes us on an adventurous road trip down the Roman Roads, and a few other side roads to boot.
What Say Ye About the Resurrection? – In the Gospel of John, we read about Thomas, who finally gets to see the risen Savior in person and afterwards confesses Jesus as "my Lord and my God. But Thomas was not the only witness to see Jesus alive. In our message today we seek the testimony of his accusers, disciples, friends, and others as we probe the question, "What say ye about the Resurrection?"
Prepared for the Cross – Jerusalem was abuzz with activity and crowds of visitors during the Holy Week of the Passover and the Feast of Unleavened Bread. The chief priests and the scribes were desperately seeking to secretly accuse Jesus and put Him to death. Time was short, but Jesus knew why He was in Jerusalem. He was there to die for our sins. Let us look at some of the preparations needed for what would happen at Calvary.
A True Friend of God – In the summer of 2020, during the onset of the COVID pandemic, our whole world became twisted and disoriented. We were in a place, a situation where (to some degree) we didn't know if we were coming or going. God had called home into eternity our Senior Pastor of 30 years. The family, the ministry of New Berean needed comfort, compassion and compass for direction. As expected, He answered the prayers of God's people and opened the door for Pastor DeWayne Cason to become the voice, the mouthpiece and spokesperson to provide the needed leadership.
In this message entitled, "A True Friend of God" from July 2020, Pastor Cason shares with the attend audience what God had given him to a ministry devastated, hurt and in need of some love. Listen in on this special and timely memory of New Berean Pulpit Points
Why Good Friday Was So Good – They say there would never have been a Resurrection to celebrate without the somber events that took place on that grim Good Friday some 2000 years ago. So what made that particular Friday in ancient Jerusalem so good? Our message aims to answer that question – with the truths found in the pages of the Gospel of Mark.
.Why We Preach – Why Preach? Certainly, with respect to the Gospel, all of us are responsible to preach, according to the Great Commission. But what about the Pastor? Ephesians 4:11 describes pastors as men who God gives to churches as a gift. Why do these "spiritual gifts" from the Lord preach or communicate God's Word to others? In this Message, our Lord Jesus, along with His Apostles Peter and Paul gives us some biblical insights on 'Why We Preach' (ref. 2 Peter 1:12-21).
A Time to Choose A Servant – King Saul had been rejected as a leader because he did not obey God's commands. The prophet Samuel, who had anointed Saul as King, was reluctant to do so out of fear of Saul. But it was time for Samuel to step out on faith and acknowledge God's call to anoint a new leader for Israel once again. (ref text: 1 Samuel 16:1-13)
SERVING TO WIN – God's messenger, Minister Donald Franklins that the Lord wants us to be like the Apostle Paul in his willingness to reach the lost. Our calling to salvation is a call to service by remembering that servants are bound to their masters and free to serve. Taken from the context found in I Corinthians 9:19-23, we find in Paul, the example that will make us intentional and a people of purpose.
• God Wants Us To Be a Witness
• God Gives Us The Plan to Reach People Who Seem To Be Unreachable
• Serving God, as We Serve Others, Opens Doors
THE GOSPEL OF LOVE – Today, guest Minister, Antonio Harris delivered a timely message to encourage the hearer of the deep penetrating impact love that is God I John 4:7-11
The Love of God is Defined as God
The Word of God is Love Made Flesh
The Love of God was Preached on the Cross
TONGUE TIED RELIGION – THE ART OF EVIL SPEAKING, The divine pathway of sanctification is chock-full of obstacles, not the least of which is the tongue; that unruly evil which James says no man can tame. So, unless the Christians spiritual grow stays on point, many believers who do a lot of talking may find themselves guilty of at least three sins. evil speaking, vain speaking, or foolish speaking. This message looks into this mysterious phenomenon we are calling a "Tongue Tied Religion and the Art of Evil Speaking".
Uzziah – The Boy Kings of Judah (Pt 2) – Uzziah was sixteen years old when he became the 10th King of Judah, he reigned 52 years in Jerusalem. The Bible tells us that Uzziah became famous and was a great and prosperous King who did what was right in the eyes of the Lord – all during the years of his mentor, a prophet named Zechariah. But unfortunately, his pride and arrogance against the things of the Lord led to his downfall. Here is the sad story of King Uzziah, in Part 2 of 'The Boy Kings Of Judah'.
2023
---
More Than Expected (Luke 1:26-38)- The angel of the Lord, said to Mary about her situation and her relative Elizabeth, "For with God nothing will be impossible." Luke 1:37. Today's guest messenger, Minister Jason Harris, shared with the attending congregants how God, in his infinite wisdom, authority and power, is not limited by our limits. He is able to do exceedingly abundant above all we can think or ask because our limitations are not his. Elizabeth was old in age (1:36) and barren but yet the angel foretold she would bare a son whose name is to be John. The same Angel told Mary, she would bare a son and here response was "how could this be"? She was a virgin. We ask for things and God does more. We don't ask for things and God gives anyway. He does more than expected and often times, it is not as we had expected. As we enter into this week of celebration of the birth of our Savior, let us be reminded our God can do the miraculous just as he did in the lives of Elizabeth and Mary.
Timeless Gifts from God – On Christmas Eve, many families have a tradition of opening one gift. The children are likely to want the biggest, heaviest gift possible. While those more mature adults may find themselves looking instead for those timeless gifts that create lasting and touching memories. As we will see from this message, God also has some gifts for us to "open". Timeless gifts, to bring us eternal joy not only this Christmas season, but forever and forever.
James Keys to True Religion (James 1:19-25) – True religion is evidenced in our speech, our compassion towards those in need and demonstrated by a Christlike walk, that is unstained by the world's influence. In his epistle to the Jews dispersed throughout the world, James gives keys to his readers of what God accepts as "true religion".
In Difficult Times – Trust In God – The Book of Job tackles one of the oldest questions ever posed by mankind, "why do godly people suffer?". After Satan, with God's permission launched a series of calamities resulting in the fall of Job's life from prosperity to poverty and ill health, his friends came by to comfort him. But soon a series of great debates began in which they told Job that his suffering was the result of his own sins. Exasperated, Job finally reacts to their accusations with that well known verse in Job 13:15, "Though He slay me, yet will I trust Him". Let's examine that verse and the lesson it reveals about believers going through difficult times while maintaining their hope in Christ and trusting God to the end.
The Peace That Christ Gives – As Jesus was preparing His disciples for His death, resurrection and leaving them, He shared some loving words of comfort, encouragement, and this precious promise in John 14:27 "Peace I leave with you, My peace I give to you; not as the world gives do I give to you. Let not your heart be troubled, neither let it be afraid." In this message we will discover the truths of what that peace was all about and how today's believers can have that same His gift of peace today.
Jehovah – The Lord Who Heals – After celebrating the Lord's victory at the Red Sea, Israel traveled three days in the wilderness into the Shur Desert. But after three days, the multitudes became thirsty. Instead of stopping to pray and ask God for a solution to their problem, the people became dissatisfied because the water at Marah was too bitter to drink. Immediately the people murmured and complained to Moses. This message tells what happened after Moses cried out to God for help, who not only turned the water from bitter to sweet, but revealed Himself as Jehovah Rapha, the Lord who Heals.
The Lord Cares for You – Psalm 1:6 reminds the righteous believer that the Lord cares for us and watches over all the plans and paths of godly men, but the paths of the godless lead to ruin. In fact, the Psalm says we are blessed because of it. And how do we experience this loving care from our God? Quick Clip
Why "Wine" About It? Celebrate What I Can Do About It – The scene was set at a wedding. The Master of the house, Mary, Jesus' mother, Jesus' disciples and Jesus himself were in attendance. In today's message from the Gospel of John (John 2:1-11), Minister Jason Harris shares several key points on this Church Anniversary Celebration, a timely message of the importance of not complaining but celebrating the fact the Lord has chosen us for a purpose. As we approach a new horizon here at New Berean, God's message to all of us is to trust him, his ability and willingness to do the miraculous.
Elijah's Journey From Hopeless to Hopeful (audio) – Elijah the Tishbite, was one of the most remarkable Old Testament prophets in the Bible. After the victory on Mt. Carmel and the defeat of the 450 false prophets of Baal, he had reached the height of his extraordinary ministry. But after King Ahab told wicked Queen Jezebel all that Elijah had done, and that she vowed to kill him, he became fearful and despondent and ran for his life. Like many exhausted servants of God, he became hopeless and defeated in his ministry. He was "just done". Our message from 1 Kings 19:1-18 tells the story of Elijah's journey from hopeless to hopeful and how God rescued the despondent prophet and as an example to us, recommissioned him back to service with support from his new helper, Elisha.
Isaiah, The Call of the Prince of Prophets (video, audio) – After the death of King Uzziah, Isaiah, the princely priest hears the voice of God, and in a majestic vision, he writes, "I saw the Lord ", and promptly answers Gods' call to serve as a Prophet of God. In this message we will look at the steps leading up to Isaiah's commission as a Prophet. As believers, we too should be prepared to experience these steps as we answer God's call to serve as effective witnesses for our Lord and Savior, Jesus Christ.
Jacob Returns to Bethel – After dwelling with his Uncle Laban for about 20 years Jacob and his family were returning home. Earlier while traveling to Laban's house, God appeared to him at a place Jacob called "Bethel," or "house of God". This was a place where Jacob had made specific promises and vows to God. Now God is calling Jacob back to the place of his original commitment. It's time for the Patriarch to make a renewal of his promises to God Almighty.
The Remarkable Life and Times of Rebekah – Rebekah, the beautiful wife of Isaac and mother of twin boys, Esau and Jacob, is described as courteous, trusting, and helpful. One of the Matriarchs of the Old Testament, she was considered a woman of faith, gentleness and grace. Our message today explores the remarkable character of Rebekah and her faith journey to fulfill the mission of the Abrahamic Covenant and the great dilemma she faced when she deceived Isaac into bestowing his blessing on the son that she so deeply favored, Jacob.
Road to Emmaus – The Gospel of Luke presents the story of two disciples, who on the evening of the first Easter Sunday were sadly returning home to their village of Emmaus some seven miles from Jerusalem. These two devout but disappointed followers were discussing what happened with the Master when suddenly Jesus appeared to them on the Road to Emmaus. Today's message introduces Luke's wonderful account of how this encounter with the risen Savior caused their 'hearts to burn' as He broke down the OT scriptures of God's plan of salvation and how His death and resurrection were necessary for the redemption of mankind.
The Last Words on the Road to the Cross – Our message today is a review of "Last Things" observed from the concluding events of Chapters 22 and 23 in Gospel of Luke, as Jesus continues his solemn journey to Jerusalem. Beginning with the plot to kill Jesus, these events will also include the betrayal, the Last Passover, and Last Supper, followed by the arrest, trial and conviction of Jesus. Finally, we will see the last event in which the Son of Man will suffer and die at Calvary on the Cross as the Messiah to complete humanity's redemption.
Heaven, Hell and the Tale of Four Souls – Have you considered that every day, thousands of people's lives come to an end? Do you have the assurance that if you were to die today, you'll be in the presence of the Lord in heaven? Well, today as we continue our series of messages from the Gospel of Luke, the Son of Man weighs in on the existence of Heaven and Hell, through his parables and stories and from His own personal experience.
Sermon of the Plain – After Jesus Christ chose his Apostles, he came down from a mountain and stood on a level place or plain. He gave a sermon to the disciples and would be disciples who were present, along with a throng of people who had come from far and wide to hear Jesus Christ's word and to receive healing from their diseases and delivery from unclean spirits. This speech in the 6th Chapter of the Gospel according to Luke (vss. 17-49) is often referred to as the Sermon on the Plain. In the sermon the Son of Man described the radical new life of Kingdom living for His followers.
Almost! The Story of Would-Be Followers – Many people who say that are willing to follow Jesus really aren't. From our series on the Gospel of Luke, "Jesus, the Son of Man", we find three people who alleged or agreed to follow the Son of Man. Well, Almost! When they counted the cost to follow Jesus, they weren't as willing as they said. As we dive into our message today from Luke 9, may we challenged to evaluate the devotion, determination, and faithfulness of our commitment to following the Lordship of Jesus Christ
When the Son of Man Calls – Today, we are continuing our series from the Gospel of Luke, "Jesus, the Son of Man". We will take a look at the 5th chapter which provides some remarkable accounts of the Son of Man's early Galilean ministry. It's stories reveal Jesus bringing hope to the oppressed and challenging those in power. Come find out what happens in today's message which is entitled "When the Son of Man Calls".
The Points:
The Temptation of the Son of Man – Following His baptism in the Jordan, where Jesus had received the visible anointing of the Holy Spirit, it was now time for Him to be challenged and tested in the Judean wilderness by the Devil to demonstrate His readiness as the Son of Man for the Gospel. Today's message from Luke 4 looks at the account of the temptation of Jesus, who was tempted in all points, as we are – but without sin.
Jesus' Comforting Words to Mothers – Throughout the Gospels and especially in the Gospel of Luke, Jesus was seen to have great love and compassion towards women of all walks of life, from the poor, the sickly, the demon possessed, the grieving widows, adulterers, prostitutes and especially mothers who found themselves or their children in great need or despair. So, as we celebrate Mother's Day today, let us take a moment to discover some of the comforting words that the Son of Man spoke to three of those special mothers found in the Gospel of Luke according to Luke.
The Power of the Gospel (audio) From Pharisee to Apostle, from persecuting the Church to Preaching Christ, one of Paul's most notable passages is Romans 1:16. For I am not ashamed of the gospel of Christ, for it is the power of God to salvation for everyone who believes, for the Jew first and also for the Greek. In this message, let us unravel this mystery of the Gospel of Christ.
Ruth Part IV – From Blue to Blessed, The Redemption of Ruth (audio) – Ruth is a story of the love and devotion of a Moabite woman who forsakes her pagan gods in order to cling to the people of Israel and their God. After having received Ruth's request to marriage her, Boaz was ready, willing and able to marry Ruth as her as a 'kinsmen redeemer'. Under the Mosaic Law, he would marry her 'in the name' of her first husband and redeem Naomi's family property. But as we learned in Chapter 3, there was a closer relative who had first rights to buy Naomi's family's fields and also thus marry Ruth. In this message, Boaz steps up to this challenge to contend for Ruth and Naomi's redemption, wellbeing and family estate.
This story began with the grief and brokenness of two destitute widows, returning to Bethlehem, one a Israelite women whose family had died and the other a stranger, a Moabite woman who left her old life to cling to her grieving mother-in-law Naomi and to Naomi's God. As they returned in poverty back to Bethlehem, God in his divine providence began to work behind the scenes to show his mercy and love for the two widows through the redemption by their kinsman redeemer Boaz. God still shows His love in spite of our tendency to dwell on our circumstances and brokenness. Jesus, the descendant offspring from Boaz & Ruth, is God come-in-the-flesh and is thus our 'kinsman', just as Boaz was to Ruth the Moabite. Jesus paid the penalty of our sin debt to God while nailed to a cross and is a picture of God reaching out to us with His love. Like Ruth who entered the land as a stranger but was then shown love by Boaz, God desires to show His love even to those of us who feel far so away from Him.
Ruth Part III – Bold Faith In Action (audio) – Ruth is a story of the love and devotion of a Moabite woman who forsakes her pagan gods in order to cling to the people of Israel and their God. In Chapter 3, having realized that the owner of the field in which Ruth had been gleaning was Boaz, a close relative of Elimelech. As a possible kinsman redeemer, Naomi, believed God's was at work and immediately acted as a match maker between Boaz and Ruth. So, she told Ruth to approach Boaz, seeking that he redeems her in marriage as her kinsman-redeemer in accordance with the Law of Moses
It was with bold faith in action that Ruth was willing to do as she was told. Obedience in our everyday life pleases God. And we show our faith in God when we obey His Word. From our message today, let us learn from Ruth to act boldly in our faith by understanding these four fundamental truths: Bold faith is rooted in trusting God and his Word, Bold faith requires obedience, Bold faith takes action and finally, Bold faith waits patiently.
Ruth Part II Hope and The Providence of God (audio) Pastor Cason continues the message of Ruth and the hope God provides in spite of unfavorable circumstances. Today from Ruth 1:19-2:23, we will see how we too can hope and share hope:
Through Hope, Ruth Saw A Need
Confident With Hope, Ruth Sought A Solution
Guide By Hope, Ruth Secured A Position
Because of Hope, Ruth Showed Appreciation
With Hope Fulfilled, Ruth Shares Her Reward
Ruth (Part 1) The Choice To Return (audio) Ruth is a story of the love and devotion of a Moabite women who forsakes her pagan gods in order to remain cling to the people of Israel and their God. Her loyalty to her mother in-law and faithfulness is rewarded by God with a new husband and becomes the great grandmother of King David and positioned in the lineage of Jesus Christ.
Elimelech -He Chose to Retreat
Naomi – She Chose to Return
Orpah – She Chose to Reject
Ruth – She Chose to Rely
The story of Ruth reminds us that many people around us need restoration. They needed to return to a right relationship with God. Taking matters into their own hands, they left the place of God, left the people of God, and wandered from the very presence of God. They found themselves backslidden and distraught. Being bitter and empty, their hearts were filled with regret and sorrow, questioning God or even blaming God for their situation. However, they had to realize that God never left them. It was they who walked away from Him. In this story we saw that God was right where they left Him and He desired for them to return to Him. In his Sovereign plan God had devised the events of their lives to bring them to a place of restoration. God also has a plan for you and may have a divine appointment planned for you.
The Vast Reach of God's Mercy (audio) Psalm 69 describes the outward cry a believer drowning in the depths of despair and agony, because of his enemies unjust persecution. In his plight, he appeals to God for vengeance against his foes, seeking immediate help – from the vast reaches of God's mercy.
Through the Psalms we discover the vastness of God's mercy towards us, motivated by love. When we feel like we are in a situation we cannot bear or faced against our enemies before God, we turn to Him, and call on His name for mercy. For we are never out of the reach of God's mercy. No matter how far away God may seem at times, we know that He will answer us out of the goodness of His love.
Better Than Lucky, We Are Blessed (audio/video)- Today's Father's Day message was delivered by guest speaker Elder Marion J. Williams as an encouragement to fathers. Using Job (Job 1:1-5), Williams outlined three things God used to describe his servant and how men can please the Lord:
Job Was A Good Example To His Children
Job Was A Good Provider and Steward
Job Prayed For His Children
The Shepherd if His Flock – (video) This 23rd Psalm has comforted many believers from the time of the Kings of Israel David to now. Those who have shared in the deep confidence and contentment of the Lord as their personal Shepherd are those who have experienced this blessed relationship for a lifetime. Psalm 23 illustrates the perfect and divine relationship between the Good and the Great Shepherd and the believers, His sheep.
Jude Part III – Praise For An Able God (video) – Now, having warned the Beloved of the false teachers who have secretly crept into the Church and pleaded with the Saints to contend for the faith, Jude reminds them in this prayer that they are not alone in this battle for the faith. For Jude concludes his Epistle with one of the most popular prayers found in the Bible, a doxology of praise, of the One who is Able.
Contend For The Faith (audio) – Jude, one of the half-brothers of Jesus wrote this small epistle to Jewish Christians to warn them of the dangers posed by false teaching and to persuade them to contend for the faith.
Like the culture we live in today, Jude's epistle exposed a culture of false teaching in the first century, that was turning the Church farther and farther away from the truth of God's Word. Unfortunately, more churches have also been invaded by false teachers with some pastors and believers laying down their Bibles, setting the truth aside and embracing the world's teachings. Jude, in this short but inspiring letter encourages the Christians of his day to know who they are, what they have in Christ and what they should believe. He warns them to watch out for false teachers and to earnestly contend for the faith
Walking In The Truth (audio) In his third epistle, the Apostle John presents three members of the first century Church who were challenged to walk in the truth of God's Word, Gaius, Diotrephes and Demetrius. As it was in the first century, it is the Churches obligation to know and to live the truth in love. In this epistle, truth was an issue in a local congregation. There were those who lived in truth and those who did not.
The lives of the three church leaders in John's letter underscores the importance of walking in the truth of the Gospel. Gaius and Demetrius are faithful Christians who walk in the truth and are highly praised and blessed by John. Diotrephes, in contrast, is a member of the church in a position of authority but is walking contrary to the truth. We are to imitate the examples of those who walk in line with the Gospel of truth. And we must become discerning enough to be aware of those leaders whose behavior is like that of Diotrephes, so far from the great example of servanthood that Jesus taught. We should be helping the Kingdom rather than living contrary to the truth.
WARNING ! It's Your Last Chance (audio) – The parable of the fruitless fig tree is Jesus' comment on the patience of God and the immediacy of Israel's need to repent before the coming judgement of God and the time of reckoning. In the parable, the vineyard owner (God) gave one last chance for the fig tree (Israel) to bear fruit, or else it would be cut down. Listen intently as this message is also relevant to both today's lost and those who are saved. It's a warning about the last chance and a day of reckoning for the lost and a day of loss rewards for those Christians who fail to live out and share the gospel to a lost world.
God is patient. He does not wish anyone to perish. He has extended time for a season to allow many the opportunity to be saved according to scriptures. But there is a warning about the last chance for man. Hebrews 9:27 reveals that it is appointed for man to die once, and after that comes judgment. Therefore it is urgent that Christians be busy living for the Lord in such a way, that those who are lost see and hear the need to repent, because of us. God is being patient, but we need to be busy. The Lost need the gospel.
Benefits of Knowing God Through Christ (audio/video) The 1st Epistle of Peter was written from Rome between AD 64-66 to encourage the churches who were in and around Asia Minor to stand fast in their faith in Christ in face of the persecution from without. Soon afterwards between AD 65-68, prior to his martyrdom under Nero, Peter now writes this 2nd Epistle to warn these same churches of the false teachers who were now attacking the Church from within
The Apostle Peter understood that the best way to live the Christian life without stumbling in their faith walk was to grow in the grace and knowledge of Jesus Christ, if they were ever to win against the enemies of the cross. Thus, it was essential to know and embrace the truth of the deity of Christ and His work to redeem mankind, for those who believe and trust in the Savior. May we also seek to learn the benefits of knowing God through the Jesus Christ.
God's Caring T-O-U-C-H (audio) We have a loving and caring God who touches our lives, ministers to hurting hearts and heals those who need his miracle healing power with His touch. In this acrostic we will examine the depths of His T-O-U-C-H.
With his intimate love, God's touch is able to pierce our hearts, heal our wounds and bring us closer to Him. And just as times of old God still touches today, but some resist His touch. As believers we should allow God to touch our hearts, rather than resist, because no other touch is like the touch of God.
David Responds To Shimei's Curses (audio/video)- This is the story of King David's response to a hateful member of King Saul's clan who shouted curses, threw stones and kicked dust against King David and his followers as they fled Jerusalem during the dark time of Absalom's rebellion. May we look to the example David, a man after God's own heart when we are confronted with lies, accusations, slander and cruel criticism from our enemies. In our response, let us learn to put away all bitterness, wrath, anger, clamor, and evil speaking. Put away all malice. Let us remember the example of David's response to Shimei. Finally, may we be as forgiving as our Savior is to us, and if at all possible, become reconciled to our adversaries.
Resurrection Sunday (audio/video) For every Believer in the Lord Jesus Christ, there is much to celebrate about on Resurrection Sunday. Guest Speaker, Robert Addison shares why this is true. It is by far the most significant day for the Christian faith and it is a day to be celebrated. Above all the events biblically recorded, Resurrection Sunday validates the power, authority depth of God's love.
2021
What A Fool Believes – All of us would like to think that we are not easily fooled, yet there are times when we can be deceived. When the people of Gibeon realized that they would be conquered, they decided to use trickery to fool Israel.
The God of Moses and children of Israel's Joshua and the Children of Israel had great success conquering the promised land. Their fame had spread throughout the land of Canaan. They were given specific instructions for destroying the inhabitants of the land. Most of the seven Canaanite kings were afraid and decided to form an alliance to fight against the army of God. But the Gibeonites, fearing they would be annihilated, decided to fool Israel into making a peace treaty with them. (audio)
Can These Bones Live? (video) Ezekiel was part of the group that was captured and taken into Babylonian exile in 597 BC. God called him to deliver condemning messages to a sinful and rebellious people who were already scattered and suffering in exile.
In today's Pulpit Points message, Pastor Cason shares how on one day in a vision, God carried Ezekiel to a desolate place, a valley full of dry bones, where God would tell the prophet to prophesy a message of hope and restoration for the scattered nation of Israel. (audio)
A Witness From Samaria (video)- In our justice system, attorneys cross examine witnesses in the court room to discover the truth about what the witness has seen or knows. It is the Christians responsibility to witness or to be soul winners with the message of the gospel according to the Great Commission found in Matthew 28:19-20. In our sermon today, we will see our Lord Jesus in action, the greatest soul winner of all time as He contends for the truth of the Messiah with an outcast and forlorn woman, the Witness from Samaria. (audio)
Give Thanks To the Lord – Americans are preparing to sit down for Thanksgiving feasts with family and friends, watch football on attempt to and get away with a well-deserved rest from it all. However we of the Christian faith are also reminded to remember what God has done for us during these times and remember to give thanks to the Lord.
Encourage One Another – Everyone needs encouragement. Believers are called to encourage one another day by day, with the truths and promises found in the Word and who they are in Christ. Else, they may become discouraged by the troubles of the world and become hardened by the deceitfulness of sin. (audio)
In todays Pulpit Points message, Pastor Cason share three points from the book of Hebrews of other selected passages of our responsibility to obey God and encourage others.
Hope In His Unfailing Love – Hope can be described as believing with confidence that God's perfect plan for our lives will ultimately happen. Hope is essential for us to live and survive. Rather than drift along hopelessly from one circumstance to another, let us be reminded of the psalmist's encouraging declaration found in Psalm 147:11 – the LORD delights in those who fear him, who put their hope in His unfailing love.
Searching Like The Bereans – At New Berean Baptist Church, you will find the following statement on our Church website regarding the Foundation of our local Church. The website that the emphasis of the foundation rests on the scriptures, the Holy Bible – the truth. It implies that the scriptures found in the Bible are the basis and foundation of the believer's faith (Rom 10:17 – "faith comes by hearing and hearing by the word of God"). As such, we accept Acts 17:11 as the basis for our mindset and therefore we believe the doctrinal truths found in the scriptures. Today we will be reminded from Acts 17:11 why we at this local assembly are called New Bereans.
Prayerfully Speaking – In the third installment of messages, Pastor Cason shares several things we could employ in our life on prayer. As we approach our day-to-day activities, we could become complacent or routine and forget how important prayer is to our day. Join us to as Cason speaks to us from Nehemiah 1:1-11
A Prayer of Conviction (vss 5-6a, Lk. 18:1)
A Prayer of Confession (vss 6b-7)
A Prayer of Confidence (vss 8-9)
A Prayer of Commitment (vss 10-11)
Positively Speaking – We live in a time when the world of social media demands that we conform to its negative mindset of self-centeredness. But such was not the attitude of our Savior who showed us the pattern of servanthood, humility. Today we will look at six positive steps we can take to help us have a mindset like Christ.
In the epistle to the Church at Philippi, the Apostle Paul expresses his joy and gratitude for the Philippian's love and financial assistance while in chains for the preaching of the gospel as prisoner in Rome. One of the themes of the letter was its presentation of the humility of Jesus as a model for us.
Practically Speaking – Having explained to the Church at Ephesus God's great plan of salvation, Paul now gives them instructions on practical Christian living and how they are to live a life worthy of the calling they have received. After beseeching them to put off the Old Man's life style, the Apostle shifts his focus in Ephesians 4:24 and encourages them to put on the New Man, seeking to imitate God in righteousness and true holiness.
Christianity is a practical faith. After coming to know Christ as Savior, God wants us to conduct ourselves in a practical, Godly way as the New Man. We should put away lying, uncontrollable anger, malice, poisonous words and evil conduct towards our fellow man. Instead we are to be imitators of God. We should hold no grudges and be those who do not grieve the Spirit of God, but practice kindness and forgiveness. We should forgive as we have been forgiven by God, demonstrating grace.
Game On! On the night before he was to die, Jesus presented to his disciples some things that must take place. Things that would change the course of history. His obedience to his coming to earth would be the way that God chose to bring salvation to the world. From his message text (John 18:4-11) Before his disciples, he presented;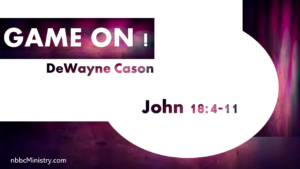 His Claim (vss 4-7) – Jesus claims to be the "I AM"
His Concern (vss 8-9) – Jesus expresses his concern for the disciple's safety
His Compassion (vs 10) – Jesus displays his compassion for the soldier who had his ear cut off
His Commission (vs 11) – Jesus announces the reason he has come to drink the bitter cup of sin for the world.
God Calls A Mighty Judge – The Bible declares that God has chosen the foolish things of this world to confound the wise (I Cor. 1:27). There are some of us who would immediately chosen the best, the strongest, the biggest or the fastest. But just as God did with David, the unlikely one to challenge a nine-foot Goliath, he knows the heart means more than the physical attributes. It has been said, "you can't teach or coach heart". Some people have it and some just don't although they have all the skills and ability.
In today's Pulpit Points message, Associate Pastor Cason takes us to a dark time is Israel's history and God the omnipotent One chosen an unlikely one named Gideon to deliver them and a bleak moment. "God Calls A Mighty Judge" is a perfect example of the great mercy and grace, God has towards his people and his divine wisdom to taken us through the dark times in our own life.
David's Prayer of Confidence – In today's Pulpit points message, Associate Pastor DeWayne Cason, shares several lessons we can all learn from David. David is always referred to as a man after God's own heart (Acts 13:22), simply because he lived his life to please the Lord. Pastor Cason takes us to Psalm 27 to learn the how and whys of praying in confidence. Join us today.
---
God Is Still In Control – In a world of so many uncertain circumstances, we all can be left in a fog of confusion and be overwhelmed. In the process we can be so captivated by events happening we lose sight of focus. In today's message, Leroy E. Ricks reminds us that no matter, the God of the bible is still in control as he always has and always will.
Heirs with the Saints and with The King of Kings – In our life as Believers we will experience a number of things, events and circumstances that will challenge our faith. God wants us to know that no matter what we experience we belong to Him and he is our God. And as a direct result of that relationship we are heirs to an inheritance that the world as a whole are not
Lessons From The Valley Pt 3 – In today's message Dr. Ricks continues his series of Lessons from The Valley. God has shown us how He uses Elisha in the previous lessons with the widow and her son and how he provided for them. Today, we will see how God used Elisha before Obadiah, Ahab and Jezebel. (I Kings 18:1-19)
Zacchaeus Seeks A Savior – Zacchaeus was a man, a human like anybody else. We were all sinners like he was, lost and out on a limb. But Jesus knew his sin condition and came to seek and to save the lost to bring about spiritual reconciliation in our lives. In today's Pulpit Points message, we'll see the process the Lord used to expose Zacchaeus' need for a Savior.
–The Dangers of Drifting Away From God (Part I)) – God has given us instructions on everything that pertains to life and godliness (1 Pet 1:3) and He expects us to faithfully follow in obedience. In today's Pulpit Points message, Dr. Lamont Ricks shares with us that there are dangers associated with falling to follow the Lord's word.
We as Believers will be challenged to compromise what we know to be true. The Lord established and has maintained his church as the vehicle by which we are to be instructed and discipled in his word. But when we chose to consider His establishment as an option, we open ourselves up to list, hear and follow others who will seek to pervert the truth of God's word. (Dangers of Drifting Part II)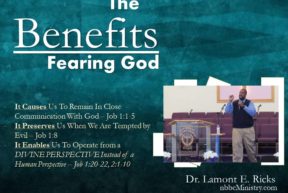 -The Benefits of Fearing God (Part I) – Believers are encouraged to know and understand there are benefits to fearing God. Fear God is simply have the right, reverence and perspective of the true and living God. God is sovereign and righteous and is able to do as his wisdom determines.Having an incorrect perspective, respective or fear will cause us to do things that will can cause that will not brings glory to the Lord. This type of mindset will cause us to fall into dangerous territory.
On the contrary, having the right fear of God, we will experience some divine and blessed benefits.
–The Benefits of Fearing God (Part II)
–The Right Attitude for Serving Christ – The life of the believer is to be lived as unto the Lord. This basically and simply means that everything we do and say is to be done to the glory of God.
In today's Pulpit Points message, Leroy E. Ricks, Sr, reminds us we must be mindful of our responsibility to serve and minister with the right attitude.
–The Power and Purpose of Trauma – Trauma as defined, is an unfavorable, unpleasant or difficult experience that causes one to move in a direction that will change one's mental state. Today's message, Dr. Ricks shared with New Berean, that all of us will at some point of time experience trauma. God's eternal plan through salvation is to use some of these traumatic experiences to change our spiritual mindset towards Him. In effect. trauma will cause us to:
–The Blood of Christ – A couple weeks ago, Pastor Ricks, shared with us in a message entitled, The Body of Christ, several key elements we needed to know regarding Christ's physical and spiritual body. Today at New Berean, paired up that message with The Blood of Christ. Today we learn what it means to have the blood of Jesus applied to our spiritually bankrupted case and why we should be eager to share in the Communion experience and not be reluctant to partake. Join in today's Pulpit Points.
–Mothers, Tell Your Children (of God's Goodness – If you were a mother, what advice would you give another mother to help set up her children for godly approval and success? What words of wisdom would you share with them?
In today's Pulpit Points message, Leroy E. Ricks, Sr. shares three things that every mother or mother to be should be able to tell their children. on Mother's Day, we honor our mothers and God does too when they impart the timeless truths of His word on our precious children.
–The Body of Christ – One of the most significant elements of the Christian faith is in the reality that God became man. He became one of his own creatures that he may provide them an example they could follow and be without excuse. In today's Pulpit Points message, Leroy E. Ricks, Sr, shares with us four reasons why our faith rests on "The Body of Christ".
–Skeletons – Skeletons are evidence of a dead past. A past that should been buried and walked away from. But as with all of us, we have a past that at times seeks to remind us of where God has delivered us.
Dr. Lamont E. Ricks shares how God's eternal and abundant grace is what we need to overcome and be delivered from the ungodly influence these skeletons can have on our lives.
–The Importance of Christ's Resurrection – The most defining element of the Christian faith is in the resurrection of Jesus Christ. In today's Pulpit Point's message, Leroy Ricks shares with the congregation of New Berean Baptist Church four particular reasons why it is important that God raised Jesus from the dead and how it plays such an unparalleled part to the overall gospel message.
–Don't Forget To Give God The Glory – From time to time, we have to be reminded because we tend to forget. In today's message, Leroy Ricks, Sr of New Berean Baptist Church reminds us that as quick as we are to ask the Lord for help, we are not to forget to give God glory when we receive the help we asked for.
–Pray Like Jabez Prayed – God cares more for us than we can ever imagine. He reminds us that, faith is what pleases Him (Heb. 11:6). He reminds us in His word, that our thoughts do not measure up to His (Isa. 55:8-9) and that we must not be double-minded (Jam 1:5-8)
In today's message, Pastor Ricks shared with the congregation a message entitled, "Pray Like Jabez Prayed". In the prayer Jabez offed to the Lord his God (1 Chronicles 4:9-10), he left for us a model of things we can petition the Lord for things in our own life:
Jabez Prayed –
Bless Me Lord
Enlarge My Territory
That Your Hand Lord, Would Be With Me
God, Keep Me From Evil, That I May Not Cause Pain
God's desire for us is to know we can trust Him and he cares for us. Be encouraged that just as Jabez prayed, we can go to our Lord in faith and boldy ask for grace to help in our time of need (Heb. 4:14-16)
–The Blessings of Being In Christ – Blessings all mine with ten-thousand beside, Great is thy faithfulness, great is thy faithfulness, morning by morning new mercies I see. All I have needed Thy hand has provided, Great is Thy faithfulness, Lord unto me. Blessings are defined as, "a thing conducive to happiness or welfare of another".
God has endowed us as his children with an infinite source of blessings for both here and in eternity. In today's Pulpit Points message, Leroy E. Ricks shared with the congregation of New Berean, just some of the many blessings given to us to enjoy and be encouraged by. We are challenged everyday by the ills of the world and the satanic influences set it place to take us away from our focus. But the Lord wants us to be reminded of the blessings we have to keep us focused.
–Pain Before Prosperity – All of us as Christians, have a journey that has taken us through the process of molding and shaping us into the image of Christ. For some of us, the road has been rough and for some of the road has been rougher. None of us will escape the process for in the process, we'll cross opportunities to grow deeper in our faith. We've been forced to deny ourselves more time than we'd like to admit although now are glad for them. God has proven himself to be faithful through them all and in today's message, Dr. Lamont E. Ricks, shared with the congregation of New Berean Baptist Church how and why the process is necessary and in place to bring God glory.
–Praise For Deliverance – Praying for deliverance is different from praising for deliverance. If you've ever been in a desperate situation, you wanted to be delivered. In those times when you were delivered, the overwhelming emotions took over and moved from one extreme to another. Leroy E. Ricks, Sr shares with the New Berean congregation the importance of giving God praise when He delivers us.
–Stuck But Not Stranded – If you've ever been in an unfavorable situation longer than you have wanted and felt like you were hopeless, Dr. Lamont Ricks, Associate Pastor of New Berean Baptist Church, shares with us from God's word why these moments exist and what our response ought to be. As Believers, we are never without hope no matter how dark or deep the circumstance is for our hope is in the Lord.
–It's Not Your Fault, But You Are Still Responsible – Things happen, Some things are our fault and some are not. In today's Pulpit Points message of nbbcMinistry, Dr. Lamont E. Ricks, shares with us that whether or not the circumstances we find ourselves, we still have a responsibility to God to do right by Him.
–The Purpose Of God's Redemption In everything we do or say, we are to give God glory. We are expected to see to it that as we decrease in praise or acclamations for our service and the praise goes to our heaven Father. But we are reminded that whatever God does, he does to his own glory, even when He redeemed us. Although our redemption was for our benefit by escaping the eternal wrath of God and the corruption of this world, ultimately, it was …
–The Power of God's Intervention Contrary to popular thinking, things happen and don't happen to us as a direct result of God's divine providence. God's omniscience and omnipresence allows Him to know everything and be everywhere at all times so he can demonstrate his omnipotence to control or intervene on thing as they pertain to his good pleasure and will.
–The Power of God's Timing, Timing is everything. To be in the right place at the right time is critical and can be beneficial to the person wanting to benefit. But in today's Pulpit Points message from Dr. Lamont E. Ricks, Associate Pastor at New Berean Baptist Church, we learn that our timing is not necessarily God's timing and we will shorten the benefits when we prioritize our timing over the Lord's. Pt 1.
– The Power of God's Timing Part 2
– That Place Called Heaven Heaven is a place people want to go, but most people will not get there. There are various reasons why but God wants all to come to where He is. In today's message, Pastor Leroy Ricks, Sr shares with us what heaven is who is going to be there as well as who is not
– Christ's Resurrection Is No Hoax The resurrection of Jesus is the least optional element of the Christian faith. On Christ being raised from the dead, all of the Christian faith hinges. No other aspect equals to what the resurrection means to our faith. The validity of the Christian faith rests securely on the resurrection of Jesus Christ from the dead. Pastor Leroy E. Ricks shares with the congregation of New Berean Baptist Church why the Resurrection of Christ is No Hoax
– True Friendship is a quality and trait we all would like to speak of in the people we associate ourselves with. The reality is we can't say that we have true friends in everyone. On the flip side of that, we can't say that we've been true friends ourselves. In a recent message, Pastor Ricks, shares from his pulpit ministry "True Friendship" and highlights; a) The Qualities of True Friendship, b) Things That Hinder True Friendship and c) What It Means To Have Jesus A Our Friend.
– Walking In The Word Of God is foundational to the believer. For the Bible is the inspired conversation of God to mankind and the believer is commanded to follow it. In doing so, God assures us that we will experience the blessings of being obedient. We will experience how and why it is difficult to be obedient and we'll see what our level of determination is to be obedient from the text of Psalms 119:1-8
– The Believer's "To-Do List" – We are all caught up in things to do. But after we are saved, are there things we are should do? Yes, there. Many people will tell you the things we ought not to do but what about the things Gods expects us to be found faithful in? The Lord has included them in His word and in Romans 12, we have a short list. Take a few minutes and write some of the down. We've included a worksheet for you. Believers To Do List
– The Security Of Our Salvation – The Security Of Our Salvation, Part I, There are many uncertainties in this life. There are a number of seemingly gray or shaded issues in Christianity. One of the more important issues in Christianity is the security of salvation. In this message, Pastor Leroy Ricks, Sr. shares with us how and why our salvation is secure through the involvement of the Father, the Son and the Holy Spirit.
– Help For My Journey – Life's journey includes some twists, turns, detours, u-turns, flyovers and rail road crossings. We may even get lost at times but he wants us to continue on with the assurances of his help along the way. In this message from Pastor Ricks, we'll hear and see in the scriptures just how helpful our God is in every situation.
– The High Cost Of Rejecting Christ – Our salvation cost Christ his life. On the ugly side accepting him which leads to salvation is the high cost of rejecting him. Along with eternal damnation there are a number of other things. Pastor Ricks share with us a few things you'll want to know.
– Stay In Your Lane of Grace – Grace, grace God's grace. Hard to understand and at time harder to live in.
– 7 Ways To Please God (Pt I) Pastor Ricks shares ways we can please the Lord
– 7 Ways To Please God (Pt II) Pastor Ricks shares ways we can please the Lord
– My Deliverer (Pt I) In the Lord, we can rest assure we have a Deliverer
– My Deliverer (Pt II) In the Lord, we can rest assure we have a Deliverer
– God Will, If He is Willing (Pt I) In all that we hear, say and do, God has the final say so in the matter
– Help Is On The Way (Pt I) Whatever unfavorable situation or circumstances we may find ourselves, we can rest assured we need not to fear, because help from the Lord is available.
Help Is On The Way (Pt II) – In a continuation of this message, Pastor Ricks shares with us from God's word the assurance we can have when we are going through unfavorable circumstances.
A Promise Kept – Everyone one of us would like to keep our promises. And more importantly we would like for those who make promises, keep them. In today's Pulpit Points Christmas message, Pastor Ricks shares what promise God kept and how we can and should rejoice that He is "The Promise Keeper"
3 Comments