Unconditional Praise is exactly what it sounds. It is the deliberate act of expressing gratitude and honor and worship the Lord for who he is. It is demonstrating your faith and trust in the God of your salvation for things we have no control over but are yet pressing on our lives. Sometimes this pressing can take over and overwhelm us to the point where panic sets in.
But How can we trust God when we are consumed in panic? We still desire toe serve the Lord and live our life to his glory but we seemingly cannot shake these heighten levels of anxiety.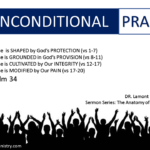 In today's Pulpit Points message, Dr. Lamont shares from Psalm 34 the things in our life that can bring about panic and how we can experience a praise that is unconditional. Although circumstances and situations are dynamic and can me dramatic, we belong to a God who is sovereign, omnipotent who has the ability to calm us settle us and give us peace in the midst of these situations.