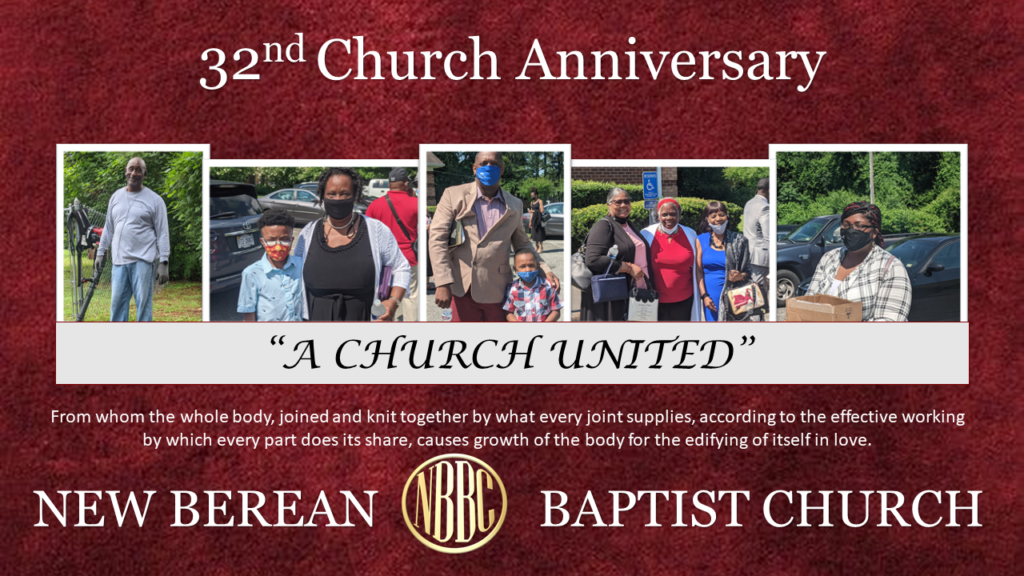 If you've been a member of New Berean for 32 years, twenty years or even one, you are part of a collection of people divinely appointed by the Lord for the purpose of being about his holy business. His business is to be his witnesses to the "Commission" which is to preach Christ to the lost, baptize those who believe and disciple those who follow, God has added you a work that has eternal benefits and rewards attached to his grace. By his order, we are united by his love, his mercy and grace and so are called to edify one another for his sake.
As we celebrate the 32nd anniversary of God's ministry, let us be reminded we also celebrate being a "Church United". We are a body of believers of like-faith joined and fitted together by the same Spirit. Working, serving and sharing in the work together, we supply and are supplied of every need and mature together for the cause of Christ and God's glory.
"From whom the whole body, joined and knit together by what every joint supplies, according to the effective working by which every part does its share, causes growth of the body for the edifying of itself in love." Ephesian 4:16
Happy Anniversary New Berean!