We are compelled by the grace of our heavenly Father to remind you of the hope that lies within you and his grace which was extended to you through our Savior Jesus Christ. Be encouraged by the hope (Rom. 5:3-5) and be comforted with his word to redeem us from the temporary of this world by his coming again (I Thess. 4:13-18) into the eternal.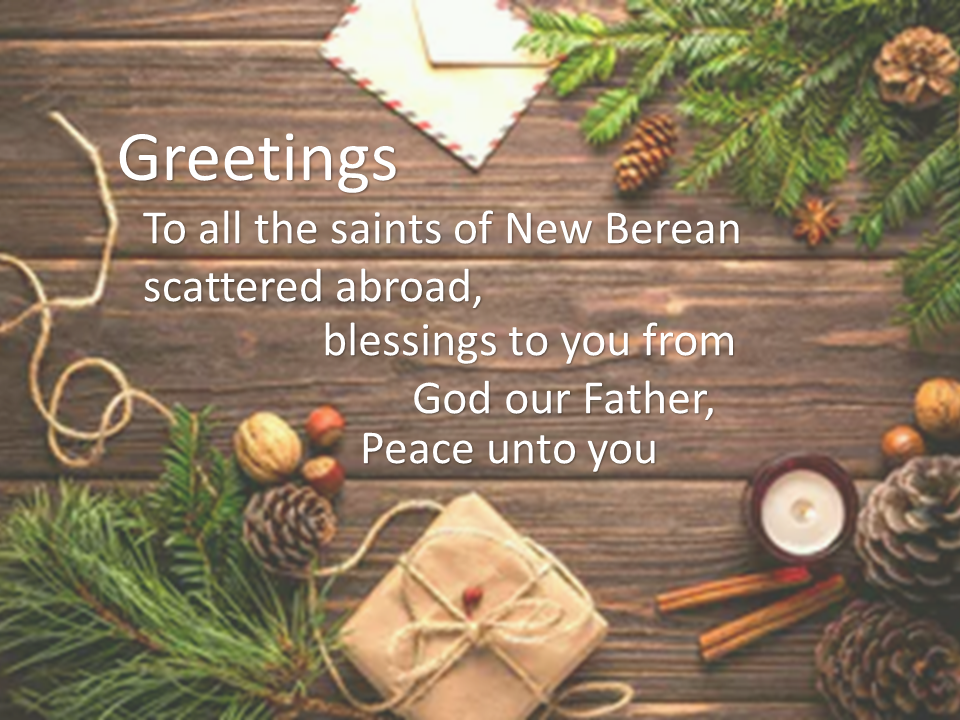 Our Lord has commanded us build up and edify one another as we see the day approaching (Heb. 10:24-25). This is the comfort we ourselves are comforted with. This year has been one strained and challenging experience and yet we are not done. Pastor Cason share these sentiments in a recent message Encourage One Another reminding us how necessary it is to both be encouraged and encourage others.
As we have spent time with family and friends this past Thanksgiving and will do again during the Christmas holidays, we would like to pass on some much needed information. Our world is still in the midst of the COVID pandemic and the CDC (Holiday Gatherings) has recently issued some helpful guidelines as well as strong concerns and warnings for everyone (highlighted below). We are advised by the word of God to exercise wisdom in all areas of our life (Pro. 1:7, James 1:5). Please take advantage of the information and continue to pray for protection and deliverance for those who are impacted by these things until things change. Your health and safety is of the utmost priority to us and we want you to be adequately informed. The Lord has given us only one body to serve in and we are mandated to do what we can to maintain it as a safe temple of worship (I Cor. 6:19-20).
CDC Guideline for Small Gatherings
Celebrate Virtually – with members of your own household (who are consistently taking measures to reduce the spread of COVID-19) poses the lowest risk for spread. Your household is anyone who currently lives and shares common spaces in your housing unit (such as your house or apartment). This can include family members, as well as roommates or people who are unrelated to you. People who do not currently live in your housing unit, such as college students who are returning home from school for the holidays, should be considered part of different households. In-person gatherings that bring together family members or friends from different households, including college students returning home, pose varying levels of risk.
Consider Gathering Outside – Indoor gatherings, especially those with poor ventilation (for example, small enclosed spaces with no outside air), pose more risk than outdoor gatherings. Gatherings that last longer pose more risk than shorter gatherings. Being within 6 feet of someone who has COVID-19 for a cumulative total of 15 minutes or more greatly increases the risk of becoming sick and requires a 14-day quarantine.
Reconsider Not Gathering (IN-PERSON) – Do not host or attend gatherings with anyone who has COVID-19 or has been exposed to someone with COVID-19 in the last 14 days. People at increased risk for severe illness If you are an older adult or person with certain medical conditions who is at increased risk of severe illness from COVID-19, or live or work with someone at increased risk of severe illness, you should avoid in-person gatherings with people who do not live in your household.
Virginia Executive order #67 (AMENDED)
In-Person Public and Private Gatherings – The Governor of the state of Virginia has recently issued an amendment to Ex Order #67 to help provide additional instructions and guidelines to help minimize the COVID spread in Virginia.
All public and private in-person gatherings of more than 25 individuals are prohibited. The presence of more than 25 individuals performing functions of their employment or assembled in an educational instructional setting is not a "gathering.". A "gathering" includes, but is not limited to, parties, celebrations, or other social events, whether they occur indoors or outdoors.